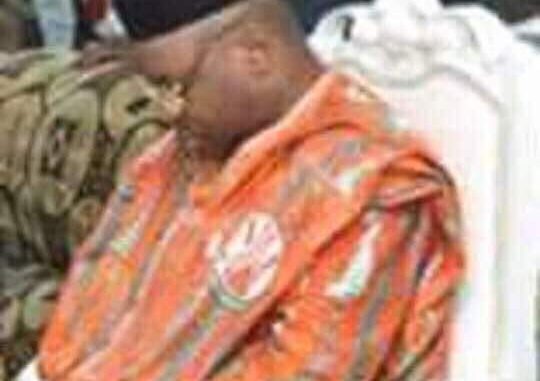 ONNA COUNCIL BOILS AS COUNCILLORS ESCAPE "ASSASSINATION"
*Hoodlums sent by Chairman -Councillors
*Councillors were plotting "coup" -Chairman
Councillors in Onna Local Government Area of Akwa Ibom State have blamed the recent attack on them on the Council Chairman, Hon. Imoh Attat.
According to them, the hoodlums that invaded the council secretariat while they (Councillors) where holding a meeting confessed to have been sent by the council boss.
The attack is believed to be unconnected to last month's (March) allocation reportedly sent to the council by Governor Udom Emmanuel.
Leader, Onna Legislative Council and representative of Awa Ward 1, Hon. Isaac Ben Paul said the disrupted meeting was not a plenary held to impeach the council chairman as misconstrued by the hoodlums.
"Armed thugs numbering over 20 invaded the council with guns, machetes and other weapons. They were echoing that the chairman sent them, that we want to impeach the chairman.
"They chased and beat us to stupor, they stabbed us. I was unconscious in hospital yesterday. Look at the type of government we have here, run by Hon. Imo Attat. It is an embarrassment to democracy, it is an embarrassment to the governor", Hon. Paul who represents Governor Emmanuel's Ward decried.
Hon. Eno Sunday Robert, Councillor representing Nung Ndem Ward 1 warned that the councillors will no longer tolerate the antics of the council boss.
"If Imo Attat wants to rubbish us, I am from his clan, I will not accept it."
Hon. Rose Ekanem representing Awa Ward 3 also alleged that the thugs were sent by the chairman.
"We were stabbed, beaten and robbed of valuables including phones and money. We escaped assassination on Tuesday", she noted.
The councillors decried that their safety is not guaranteed.
Earlier, Leader, Onna Legislative Council, Hon. Isaac Ben Paul said the chairman walked out on councillors when they met with him to discuss their welfare and his (chairman) impending foreign trip.
When contacted, the council chairman said he will give his side of the story at his convenience.
Efforts to make him speak before press time proved abortive.
Meanwhile, a journalist, Koko Robson, in his report quoted the chairman to have accused the councillors of plotting a "coup."
"You know coup plots always leak. As they were planning my impeachment, disagreement broke out among them, and the plan was leaked.
"So, when I was called and informed what happened, I called some people to go there (council secretariat) and find out what was happening.
"They are saying that I collected 17m as March allocation for the local government, but I tried to tell them that the money was 8.2m. All my efforts to convince them proved abortive", the chairman explained.
(C) Ofonime Honesty