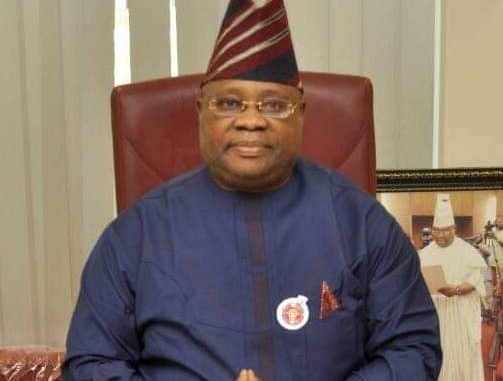 We'll always identify with Adeleke- Classmates
Classmates of Senator Ademola Adeleke at the Muslim Grammar School, Ede in Osun State have paid him a solidarity visit.
They insisted he attended the school between 1976 and 1981.
At a press conference in Ede, Dr. Mukaila Olopade, who was a former Sports Prefect in the school, said as their mate they will always identify with Ademola Adeleke, whom he described as a good jolly fellow.
Accompanied by other mates, Mukaila Ayoola, Ajibola Nureni, Ademola Oyelakin and Dauda Okanlawon, he said: "Those of us, who attended Muslim Grammar School, Ede between 1976 and 1981, would readily attest to the good companionship and brotherly fraternity that we shared with the amiable Senator Nurudeen Ademola Adeleke, who from childhood has shown leadership traits.
"Ademola's time at the Muslim Grammar School, Ede together with us was years we shall proudly refer to as well spent in our formative years. We of the 1976/1981 set of which Ademola Adeleke was a part, could with all sense of responsibility and patriotic zeal affirmed that the distinguished senator gave a good account of himself as our classmate.
"Our 1976/1981 set, sat for the final West Africa School Certificate Examination and had our names, including Senator Ademola Adeleke's recorded in its ledger as presented by an Assistant Registrar of the body (WAEC), when he was called upon by a Federal Capital Territory High Court in Abuja. What further proof is Senator Ademola Adeleke's antagonists looking for to confirm his attendance and participation in the 1981 WASCE with the rest of us."
According to him, all attempts by some people exhibiting hatred in their bikes to run down Ademola Adeleke is only an attempt to try God's will and an effort in futility.
He disclosed that the senator was the President of "our Old Students Association for four years", saying "this could not have been possible if he did not finish in the school and wrote the WAEC.
(C) The Nation