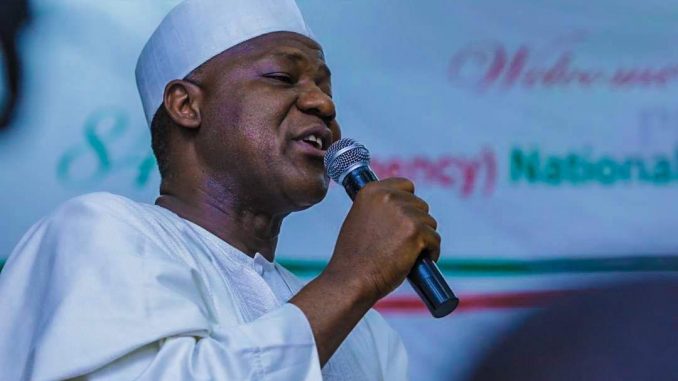 Dogara, Onofiok Luke, US Ambassador to Speak at Not-Too-Young-To-Run Gathering tomorrow
Speaker of the Federal House of Representatives, Yakubu Dogara, together with the Speaker of the Akwa Ibom State House of Assembly, Onofiok Luke, are among eminent Nigerians and international diplomats billed to speak at what will be Nigeria's largest gathering of young elected legislators in Abuja.
The gathering scheduled for Tuesday, May 7 and Wednesday, May 8, 2019, is to be organized by the Not-Too-Young-To-Run movement with the theme:"Leadership, Power and Politics".
Mr Luke who himself is seasoned lawmaker and sound public speaker, having represented his Nsit Ubium State Constitiency meritoriously for two terms at the Akwa Ibom Assembly, will be among the over 300 young leaders recently elected into various seats in the national and state houses of assemblies at the conference.
The organizers say the young lawmakers will have an opportunity to interact and learn from the experiences of an array of highly respected and seasoned speakers headlining the conference.
The Convergence 2.0 is designed to inspire, empower and expose newly elected young legislators in the 2019 elections to resources and tools required for excellent public leadership and quality representation.
According to the organisers, it presents an opportunity for the newly elected young lawmakers to reflect on Nigeria's 20 years of democracy with a view to designing a new democratic and leadership model that promotes institutional reforms, economic development and reduces inequality.
The event will celebrate the direct beneficiaries of the 'Not Too Young To Run Act' signed into law on May 31, 2018 by President Muhammadu Buhari.
Other speakers include Senator Abdul-Aziz Nyako; Hon. Nnenna Ukeje; Hon. Tony Nwulu; Hon. Raphael Igbokwe (Chair, Young Parliamentarians Forum); Hon. Desmond Elliot; Eugenia Abu; Udo Jude Ilo; Oladayo Olaide; Catriona Liang (British High Commissioner to Nigeria); W. Stuart Symington, (US Ambassador to Nigeria) amongst others.
Unarguably, Nigeria needs a new leadership paradigm that puts the people first. This leadership model must be driven by the philosophy of results and impact as well as accountability and transparency.
The Convergence 2.0 is the second in the series of conferences hosted by the movement. The maiden edition held in December 2018. Over 400 youth candidates were supported to participate at the conference.
The Convergence is supported by the United Kingdom Agency for International Development (UKAID).
Meanwhile, as part of moves to improve future electoral process, election observer group, Centre for Transparency Advocacy (CTA) has said it will hold a two-day parley with chairmen of political parties in the country to review the outcome of the recently concluded 2019 general election.
The meeting expected to hold on Monday, May 6 according to a statement by CTA acting executive director, Faith Nwadishi, will review the role critical stakeholders played in the 2019 elections.
The 2-day round table will also review the role played by INEC and political parties in the electoral process.
Source: legit.ng