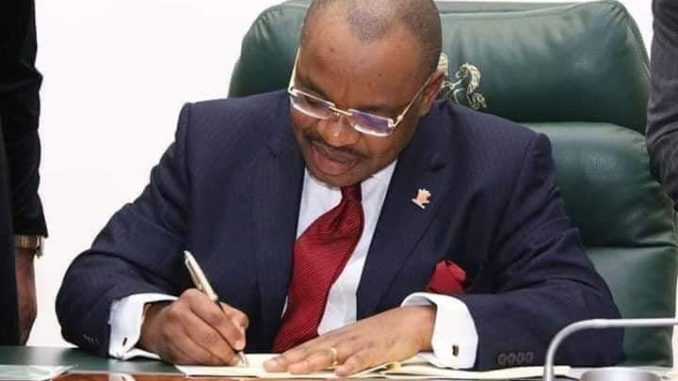 Akwa Ibom Residents Know That Udom Emmanuel Has Failed
By Clement Ikpatt
Udom Emmanuel is winding down as governor of Akwa Ibom State It is appraisal time for his obviously poor performance record and lemon leadership. He has made notorious history as the worst performing governor ever in Akwa Ibom State.
Most Akwa Ibom State residents are poorer, jobless, unhealthier and more depressed today than four years ago. All economic and social indices have tanked. Now, Akwa Ibom State is the national bottom last in unemployment, worst in HIV/AIDS prevalence, Nigeria's poster state with highest students drop out rate, etc. Udom Emmanuel was at the rudder, he sank the ship.
Udom Emmanuel lied a storm to Akwa Ibom people: his imaginary industries contribute nothing to the GDP: he killed the Ibom Specialist Hospital and frustrated all revenue yeilding projects inherited from his predecessors.
Udom Emmanuel mangled the health sector. He brought in donated and refurbished biomedical equipment as new; all 25 container loads of used equipment out of the 100 he bragged about. Yet, no person who has enjoyed improved medical services in better civilizations wants to set feet in any of Udom Emmanuel's medical centers.
Udom Emmanuel flagrantly abused his office. He protected persons indicted for criminal negligence and manslaughter of Akwa Ibomites. He kept quiet when innocent souls were killed and displaced in Akwa Ibom axis of terror (Etim Ekpo, Ika and Ukanafun councils). He led thugs to the Akwa Ibom State House of Assembly and commanded the worst rigged election processes ever in Akwa Ibom State.
Udom Emmanuel strangled the education sector, refusing to award scholarships and pay paltry bursaries. He cared less about teachers, leaving minors to wander in streets and to harsh fate of cultism (gangs) and child labor. When dilapidated Akwa Ibom schools became national news, Udom Emmanuel fought back with self adulation and intense denial. Adding salt to injury, his aide scammed some indigent students, promising them tuition assistance for a fee while Udom Emmanuel heard and saw nothing with the scam.
The agriculture sector withered on the vine. Failed promise of livestock farming, flagrant lies about non existent Family Rice product and rice farms, controversial and potentially unviable St. Gabriel coconut, propaganda cassava farms, agric revolution by way of a few greenhouse tomatoes, a fertilizer blending plant scam, a delirious Commissioner sacked, a dead Ministry, a hungry people, etc. Udom Emmanuel smothered the sector with clueless policy and reckless abandon.
I have carefully followed governors since the creation of Akwa Ibom State. Until Udom Emmanuel, I took them for granted and judged their performances with a foreign yardstick. Now, I can say they were patriots who gave us their best and dearly loved Akwa Ibom State.
But, Udom Emmanuel? I have never seen one who has failed in leadership and is as bad a governor as Udom Emmanuel. Despite receiving the most combined revenue from statutory allocations (of all States in the country, Akwa Ibom received the most), derivation fund, Paris Club refunds and from other sources, Udom Emmanuel stacked up a huge debt. He cannot point to any legacy project let alone account for most of the funds. Udom Emmanuel cannot even complete any of his fantasy projects.
I know and I speak the hearts and minds of most Akwa Ibomites. May our worst times so far end.