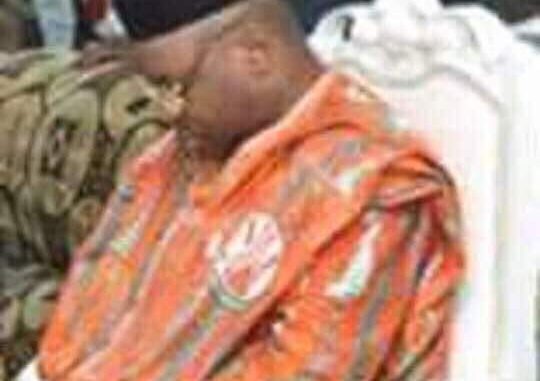 Money laundering charge:
You are crying wolf where there is none, Judge tells Gov Emmanuel
••• Dismisses preliminary objection to name inclusion 
The Federal High Court in Lagos on Thursday dismissed a notice of preliminary objection by Akwa Ibom State Governor, Udom Emmanuel challenging a money laundering charge in which he was named as an accomplice.
Justice Rilwan Aikawa held that the application lacked merit.
Emmanuel prayed the court to hold that he ought not to be named in the charge against Nigerian Bar Association (NBA) president Paul Usoro (SAN).
The governor, through his lawyer Dr. Charles Mekwunye, said the Economic and Financial Crimes Commission (EFCC) was wrong to name him in the charge since he enjoys immunity as enshrined in Section 308 of the 1999 Constitution.
Akwa Ibom Commissioner for Finance Nsikan Nkan, Attorney-General and Commissioner for Justice Uwemedimo Nwoko, Accountant-General Mfon Udomah and an account officer Margaret Thompson Ukpe are also named in the charge.
EFCC, which accused them of laundering N1.4billion state funds through Usoro, said they were "at large".
Emmanuel urged the court to decline jurisdiction to entertain the charge because EFCC had no locus standi to file it.
He argued that only the state House of Assembly could bring such complaints against him, adding that the charge was outside EFCC's jurisdictional purview.
According to the governor, the funds said to have been laundered do not belong to the Federal Republic of Nigeria, but to Akwa Ibom State.
"It is unconstitutional for the complainant to supervise Akwa Ibom State's use of funds," his lawyer argued.
Opposing the motion, EFCC's lawyer Rotimi Oyedepo said the court's power to hear and determine money laundering related offences against all persons was not in doubt.
He insisted that Governor Emmanuel was not a defendant in the charge despite being named in it.
Ruling on Thursday, Justice Aikawa said it was not in doubt that the governor enjoyed immunity.
He, however, held that Emmanuel was not facing a charge named in one.
"In every criminal trial, the necessary parties are the complainant and the named defendant, in this case Mr Paul Usoro.
"Including the governor's name in counts 1-4 does not make him a defendant.
"The mere mention of his name is not enough to make the applicant (Emmanuel) a defendant in this trial," the judge ruled.
According to the judge, the counts in which Emmanuel's name feature "are mere statements" that "have not graduated to a charge."
He said the governor's claim that he was denied fair hearing amounted to "crying wolf where there is none".
"He has to be in the trial to complain of lack of fair hearing," Justice Aikawa ruled.
On the issue of whether Emmanuel's aides can be charged over state funds, the judge ruled that EFCC has the right to try anyone for money laundering even where state funds are involved.
Referring to the case of Nyame vs FRN, he held that the EFCC has the locus standi to file money laundering charge against any person in the federal or state high court.
"On the whole, it is my view and I so hold, that this application is lacking in merit and it is accordingly dismissed," Justice Aikawa held.
EFCC alleged that Usoro conspired with others to commit the offence within the court's jurisdiction on May 14, 2016.
He allegedly conspired with others to convert N1.4 billion, property of Akwa Ibom State Government, which sum they reasonably ought to have known formed part of the proceeds of unlawful activity.
The prosecution said the unlawful activity included criminal breach of trust, which contravened sections 15 (2), 15(3), and 18 (A) of the Money Laundering (Prohibition) Act, 2011.
Usoro pleaded not guilty.
(C) The Nation