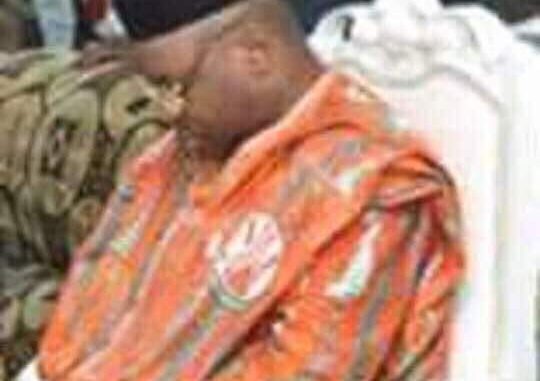 Group carpets Udom over double standards in severance allowance payment 
•••• accuses him of collecting his severance allowance as SSG under Akpabio
•••Secretly paid his aides' severance allowance 
•••• Refusing to pay same to Akpabio's aides
.
By Ukeme Bassey
Governor Udom Emmanuel of Akwa Ibom State has been accused of displaying double standards in the handling of severance allowances due to former aides of his predecessor, Senator Godswill Akpabio.
According to Mr Aloysious Ben, Cordinator, Coalition for Good Governance and Justice, " our body is apolitical in whatever positions we take on issues. We are out to promote justice, equity and fairness among individuals and groups and that is why we have decided to make our position on this vexed issue known to the public."
"We all know that government is a continuum no matter the situation and condition under which new governments take over. As a government you inherit both assets and liabilities of the erstwhile administration.
"However, we are deeply worried and saddened that the Udom Emmanuel-led government of Akwa State sees governance from a different prism on the way he has decided or is handling the severance allowance of those who worked with his predecessor, despite the fact that he was one of them and had been paid his severance allowance by the government of Godswill Akpabio, shortly after he resigned to contest the governorship of the state in 2015," he stated.
"The action of Governor Emmanuel defies all responsible explanations as to why he chose to pay his own aides at the end of his first tenure their severance allowances,  collected his own as SSG under Akpabio,  but chose to deny those he worked under Akpabio with, their rights. This, to us, is the height of man inhumanity to man.
" Governor Emmanuel should realise that he was elected into office by the people of the state and he also swore an oath to do justice to all manner of people without prejudice to race, religion or political conviction. He should also have it at the back of his mind that Power is transient and ephemeral, and one day, power will leave him to another person"
 "The way the whole exercise was shrouded in secrecy calls for serious concern from the people of the state and would have gone unnoticed like other decisions of government, if not for a letter of appreciation written to the governor by the Conference of Personal Aides to the Governor.
"We hereby call on Governor Emmanuel to, in the spirit of justice and equity order the payment of severance allowances due to all former aides of his predecessor, since he had been paid when he resigned as SSG under Akpabio.
" Refusing to release the entitlements of your former colleagues, but chose to pay your former aides, few days after the end of tenure, does not place you and the government you are leading on a positive path of history", Ben stressed.