Violent scenes outside Geneva hotel of Cameroon president.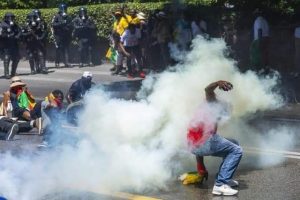 Swiss police have used force to disperse around 250 people who were demonstrating against the presence of Cameroonian President Paul Biya at the InterContinental Geneva hotel.
The protesters gathered early on Saturday afternoon in a square near the European headquarters of the United Nations and near the hotel, waving Cameroonian flags and anti-Biya placards and posters.
"We Cameroonians demand that Cameroon enters the modern era of democracy, having lived for 37 years under the senile dictatorship of Paul Biya," said Robert Wanto, head of the council for the Cameroonian diaspora, who has been living in exile in France for almost 30 years.
"This dictator has taken his habits to the InterContinental hotel where he's squandering billions of our francs while the country is economically sick. We cannot accept it."
Police spokesman Silvain Guillaume-Gentil said officers fired tear gas after a group of protesters attempted to break through police lines to reach the hotel. He said several protesters were affected by the chemicals but nobody was injured or arrested.