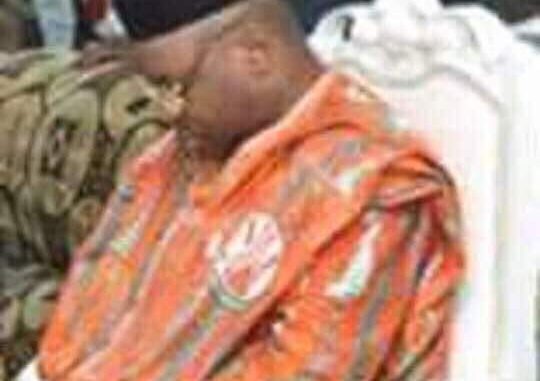 Onna madness: Udom Emmanuel's Doctrine Of Pettiness And Bad Politics
By Clement Ikpatt
Last year, Udom Emmanuel brought in some used and unserviceable biomedical equipment that were donated by a US based 501(C)3 organization (Nigeria's equivalent of NGO).
He negotiated to pay only freight charges for the shipment of 100 containers of assorted used biomedical equipment to Lagos, Nigeria. He ended up bringing in only 25 containers of mostly junk (unserviceable) biomedical equipment and made a hell lot of noise about them.
Udom Emmanuel vehemently denied the verifiable truth about the source, nature (as in used items) and no cost bill for those equipment, maintaining that he bought them brand new for hospitals and health centers across the state. Of course, he lied!
Senator Godswill Akpabio followed due processes to secure over N3 billion worth of sparkling brand new biomedical equipment for hospitals in Akwa Ibom State, courtesy of the Federal Government. He could have downsized into a constituency project only for the Akwa Ibom North West Senatorial District, but he is the Akwa Ibom statesman ever putting Akwa Ibom first.
The over N30 billion worth of biomedical equipment sourced for hospitals in the state in addition to having fully equipped the Ibom Specialist Hospital with state-of-the-art equipment and facilities while he, Chief Godswill Akpabio, was the executive governor.
Udom Emmanuel has, in petty disregard to medical tourism and good interests of Akwa Ibomites, almost killed the Ibom Specialist Hospital. He wants to destroy anything traced to his predecessor, even if it means using public funds to do so.
The last thing Udom Emmanuel wants to see is Sen. Akpabio facilitating the uncommon transformation of hospitals in Akwa Ibom State, and specifically in Onna Local Government Area. That will bring out a deep contrast between the Senator Akpabio facilitated N3 billion worth of new biomedical equipment and Udom Emmanuel's 25 containers load of unseviceable junk. It will further demonstrate Udom Emmanuel's gross incompetence and poor performance as governor.
Today, in furtherance of Udom Emmanuel's petty agenda, some of his Onna born folks, wearing the Udom Emmanuel mindset, went wild in protest against the delivery of Federal Government bought and donated biomedical equipment brought to them courtesy of Senator Akpabio.
Theirs is a case of cutting the nose to spite the face. Theirs is not only a demonstration of madness, it is loaded with danger.
A clear and present danger in the Onna madness is Udom Emmanuel's doctrine of pettiness and bad politics. It has become the new norm in Akwa Ibom State. It is new and dangerous dimension of hate mongering and clannishness never seen or heard of in Akwa Ibom politics.
If this new norm and the new culture of votes buying are added to present day stealing from, killing and destruction of Akwa Ibom State then, I promise, we are deep in a tall pile of stuff.