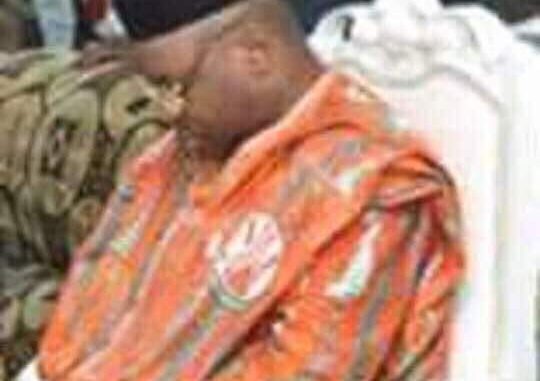 Troubles for  Udom /PDP at the Tribunal 
•••How Ekpenyong hijacked election materials to his residence
•••INEC staff reveals through video
The Governorship and House of Assembly Elections Petition Tribunal, sitting in Uyo, the Akwa Ibom State capital was today, told of how, the Peoples Democratic Party(PDP), chieftain Senator Chris Ekpenyong,  hijacked election materials to his residence on election day.
An Independent  Electoral Commission(INEC), Assistant Presiding Officer (APO), who served in Abiakpo, Nto Edino Ward 4, Unit 005, Obot Akara LGA revealed this when he was led in evidence by the APC lead counsel, J S Okutekpa SAN.
The INEC adhoc staff who was a subpoenaed Petitioners' Witness 44(PW44) was led in evidence by Petitioners' Counsel, J.S. Okutekpa SAN, mounted the witness box on Wednesday July 24, 2019 and shocked the tribunal on how PDP sponsored armed thugs who worked for the party and Senator Chris Ekpenyong stormed the polling units in the area and carted away election materials.
He said "on the day of the Governorship and House of Assembly Elections, at about 11:05am, some thugs drove into the Unit in a jeep shooting into the air. Everyone ran away, when we the INEC officials on duty wanted to run, they stopped us.
"They packed all election materials and asked us to follow them. They took us to Chris Ekpenyong's compound in Abiakpo, Obot Akara LGA.
"When we got there, we saw other INEC officials which they had assembled earlier.They asked us to cooperate otherwise no one would leave there alive.
"They started stamping on the ballot papers. While this was ongoing, others were thumbprinting.There were other wards like Wards 2, 3 and 5 and parts of Ikot Abia. They were all thumbprinting. Because of the fear for my life, I had to cooperate with them. I brought out my phone and started recording short videos."
The shocking video showed the armed thugs stamping, thumb printing ballot papers and stuffing the ballot boxes.
Under cross examination by Counsel to the Respondents, the witness affirmed that he discreetly recorded the video clip because he feared for his life.
The video was admitted in evidence and marked accordingly.
Proceedings to be continued as Petitioners informed the Tribunal that they have a few more witnesses to present