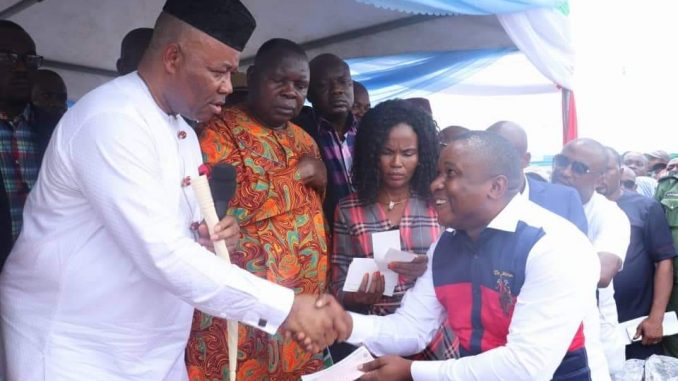 To Godswill Obot Akpabio, CON
By Udo Silas
Politics is almost as exciting as war, and quite as dangerous. In war you can only be killed once, but in politics many times
—Sir Winston Churchill
I salute you boss. It has been a while we spoke. While you have been very busy for obvious reasons, I have been in my corner putting finishing touches to my upcoming book. Just needed to put these thoughts down because even when we eventually see, we may not have enough time to talk much.
Firstly, I want to join your family, friends and teeming supporters in extending my heartfelt congratulations to you, on your nomination, screening and confirmation as a minister designate of our nation. No matter the postulations here and there, your nomination in itself is evidence of the positives you can bring to any table. So Kudos is very much in order.
But congratulations alone do not seem enough. I must crave your indulgence to please allow me speak or write from the heart.
You must have noticed that the words you have voiced in the distant and near past, has become the palm oil with which your veiled friends and brothers have eaten their yams. They have amplified the echo of your utterances to suit their whims and caprices.
Do such factual distortions define your persona? No. But it is a yes to those who do not know you.
You see Boss, humor and its corollaries reside in your belly. Laughter is the smile you always desire to give to people. When you speak, you expect people to take the humor home. But it doesn't work that way sometimes, as they take both the humor and its import. The later as you have seen, is susceptible to a twist of purpose and intent.
Humor has been the epicenter of your social, political and perhaps even your interpersonal worldview. To you humor should be the wheel of resilience that propels mankind through this life of roundabouts. You use it everywhere. It has become the signpost of your lexicon and register.
Notice how they played and have been playing on your riposte of the comedic? How would they have dreamed that the nation Ukraine would soon move as if in obeisance, to affirm your uncommon confession?
In congratulating you, you must excuse me to lay a charge. I would enjoin you Boss, to reinvent the substance and articulations of your gift. Your humor going forward must be spiced from the womb of Westminster. You must assume the wit of elegance worn majestically by the great Winston Churchill.
Like you he is cerebral yet instantaneous. History remembers Churchill for many things. But his wit has remained the tombstone of his sagacity. His off the sleeve interventions in international, national, personal or political discourse still cause a thought and a smile, here and there, even today.
Like I said, humor resides in your belly. But its rendition over time is often misjudged, misinterpreted and even misunderstood. Maybe deliberately. Maybe not.
Time has thrust you yet again. And time is space and chance. It is the call of the spirits to those who know their purpose. This is the time for you to become the Churchill of our time.
I know you know what I am talking about. Many may know too. Yet many may still believe you have been demystified. You see Boss, a lot of people see your demystification not in your purported loss at the last election, but in the words you spoke before and after. Truth is your purported loss was unexpected.
Your purported loss was the last thing anyone foresaw. Yes it hurt many. Yes it hurt you. Yes it disappointed many. Yes it deflated the surge to the house on the hill. But your purported loss did not impact as your words. It was your words that give remembrance to your purported loss.
Even the great Winston Churchill lost an election. But not many remember that. But only a few forget his words.
The commune of an oracle is infallible. The oracle speaks by the spirits. An oracle speaks because he knows what mere mortals cannot even hear. Did you not know that you were an oracle? (But Boss you have to wait for my upcoming book titled; Politics of Elections in Nigeria; A case study of Akwa Ibom 2019 National and Gubernatorial Elections, to read the full outlay of this intellectually orgasmic segment)
You definitely are not a perfect man. No man is. Neither are you the best administrator on earth. But you always put your best foot forward. I see sectors in Akwa Ibom where you could have done more.
But you couldn't have done all. Governance they say is a continuum. But none can deny the positive impact you wrought in many sectors, including of course road and infrastructural renaissance.
If history has been harsh on you, that is because you failed to write your history. "Leave the past to history especially as I propose to write that history myself" the great Winston Churchill said.
Finally Boss, I know I do not need to warn you to beware of sycophants. Sycophants are hunters who prey on the simplicity, kindness and humanness of the good hearted. Haven't they used you enough? Sycophants locate the G-spot of a lion heart from a mile away.
They succeed because they have learnt to tell us only what we die to hear. We only become victims because we stay too long in their trajectory of deceit. So you must sharpen your skills on people psychology. You must become circumspect without reneging on who you are. You must discern without prejudice.
So what would you do when and if you win in the courts? I can wager that you know what you would do. But whatever choice you make, I know it would be for the larger interests of Akwa Ibom and Nigerian people.
Do not allow the hatred of a few dim your love for your people. Going forward, I urge you to rekindle the 'anger' that pushed you to redefine Akwa Ibom in our national psyche. Congratulations Boss and May your road be rough!