Aisha Buhari, Zambian VP, charge citizens on nation building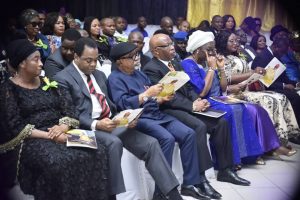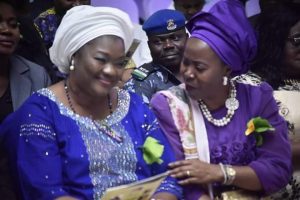 The First Lady, Mrs Aisha Buhari and former Vice President, Republic of Zambia, Dr Nevers Mumba have urged Nigerians to be alive to their duties and responsibilities so as to build a united and prosperous country.
They gave the charge at the inaugural Gbene Cyrus Nunieh Memorial lecture  and launch of the "Save Our National Flower Campaign" in Port Harcourt, Rivers State on Wednesday.
In her remarks at the event which had as its theme: "The Role of Citizens in Nation-building – A Moral or Legal obligation?" Mrs Buhari said Nigerians should strike a balance between defending their rights and their responsibilities.
The First Lady who was represented by the former First Lady of Akwa Ibom State and Wife of Minister Designate, Mrs Ekaette Unoma Godswill Akpabio said, "It is apt to state that Nigerians defend the issue of their rights more than they see the issue of their responsibilities even though both are constitutional provisions.
"Chapter 11section 24 of the 1999 constitution of the Federal Republic of Nigeria provides some of the responsibilities of citizens to include respect for the constitution and legitimate authority as well as enhancing the good name of Nigeria. It also provides that citizens must respect the dignity and rights of other citizens and promote the spirit of common brotherhood and good neighbourliness. We need to reflect on the importance of these provisions.
"The constitution also provides that we make positive and useful contribution to the advancement, progress and wellbeing of the communities where we reside and render assistance to appropriate agencies in the maintenance of law and order. Citizens are also expected to declare income honestly to appropriate and lawful agencies and pay tax promptly. These provisions are direct instructions to citizens on what they must do to fulfill their duty to the nation," she said.
Mrs Buhari commended the launch of Save Our National Flower Campaign as a welcome development as it would go a long way in redirecting back to these constitutional ideals.
The former Vice President of Zambia, Dr Mumba decried corruption in the African continent and said the continent was in desperate need of leaders with integrity. He urged citizens to elect those who had the qualities to steer the continent to greatness.
He celebrated the late Gbene Cyrus Nunieh as a great lawyer and statesman. He said it was not the longevity of his life that was being celebrated but the content of his life, adding that the late Senator Nunieh qualified to be among Africa's finest minds.
The former Beauty Queen and the Ambassador of the Save Our National Flower Campaign, Mrs Helen Prest Ajayi said most Nigerians did not know there is a National Flower. However, she said the response of Nigerians after realizing there is a National Flower was that of apathy. She said this must be corrected.