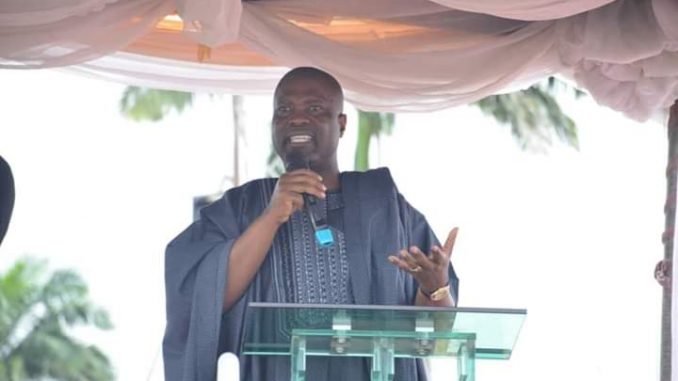 The Church should leave politics – Ekere
…Politicians have joined to destroy the church – Rev Isangedighi
Obong Nsima Ekere, the Governorship Candidate of the All Progressives Congress (APC) in Akwa Ibom State, and Rev Effiong Isangedighi, a former National Treasurer of the Assemblies of God, on Friday decried the meddling of Christian leaders in the politics of the state.
They spoke at the funeral ceremony of Apostle Patrick Jerome, the Prelate of the Christ Believers (Evangelical) Mission, at Unity Park, Uyo.
In his tribute to the late man of God, Obong Ekere urged Christian leaders to concentrate on the propagation of the gospel and refrain from partisan politics.
"My appeal to all of us, especially the church, is that we should emulate this man of God and go back to the old ways of God. Most importantly, the church should please leave politics out of church. In the memory of our Apostle Jerome, our Christian fathers should concentrate on the teaching of the gospel of salvation and Christ-like life. I believe that if Christian leaders do that, we will have the peace we want in this state and the country. My prayer is that God will heal the church and bring the peace we need," he said.
Obong Ekere traced his father-son relationship with Apostle Jerome to 2011, revealing that he had benefited a lot spiritually from the relationship.
He eulogised the late Apostle as a great man of God who always insisted on one's personal relationship with God.
In his sermon, titled "Stop playing the fool, " Rev Isangedighi lamented that "it is a pity that some Christians and Church leaders have abandoned what God has asked us to do and do what God has asked us not to do."
He condemned a situation where some politicians engage in killing, kidnapping and rituals to achieve their ambitions and thereafter hold church thanksgiving service, revealing that he once shunned an invitation to attend such a service because "I knew what happened."
Rev Isangedighi lamented that "politicians have joined to destroy the church."
He also lashed out at some church founders who abandon prayers to God to seek evil powers, stating that "they were only fooling themselves."
The man of God said it was sad that some church leaders and Christians would flood government-organized prayer summits because of monetary gains but shun prayer summits called by churches.
He also came down hard on any government that fails to pay its workers salaries, insincere employees, adulterers and fornicators, admonishing them to repent of their sins and stop fooling themselves because "we will all give account of ourselves and there is no rest for the wicked."
Rev Isangedeghi praised Apostle Jerome as a man of sincerity and truth not given to material gains.
Senator Ita Enang, the Senior Special Assistant to the President on Niger Delta Affairs, who represented his boss, described Apostle Jerome as the patriarch of modern evangelism in Nigeria.
He urged the deceased family to emulate the worthy life lived by Apostle Jerome and prayed God to give them the fortitude to bear the loss.