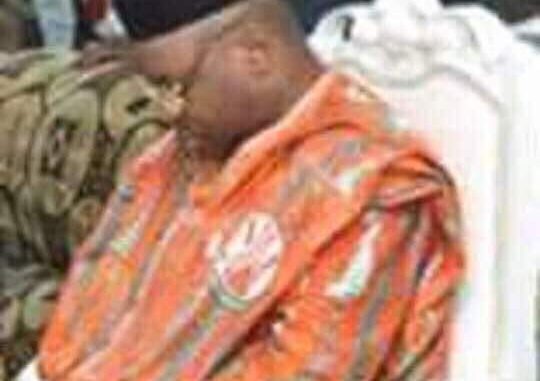 AFTERMATH 2019 GOV POLL IN AKWA IBOM, UDOM MOVES AGAINST IBOKESSIEN OTHERS
••• SET TO TO AUCTION RITMAN UNIVERSITY IF…
•••IBOKESSIEN REGRETS TESTIFYING FOR GOV AT TRIBUNAL
LIST OF DELINQUENT DEBTORS
Pursuant to and in compliance with the circular issued by the Central Bank of Nigeria in April 2015, Akwa Savings and Loans Limited hereby publishes the list of fifty-six (56) top delinquent debtors.
This has become necessary as all avenues provided by the Bank to propose acceptable terms of resolution have failed.
Nevertheless, the Bank is still open to amicable resolution of these debts within a reasonable timeframe, failing which it shall continue to exercise all powers, as provided by the law, to recover, which may include the sale of collateral used to secure these facilities.
1. RITMAN COLLEGE (SEN. EMMANUEL IBOKESSIEN)
104B UMUAHIA ROAD IKOT EKPENE.
N152,436,185.00
2. GENESTOR NIG. LIMITED (TEMLONG NKWO)
75 UYO ROAD IKOT EKPENE
N74,948,003.50
3. EMEM AND SONS NIG LTD (SYLVANUS UKPONG)
48 BROOKS STREET UYO AKS
N68,991,966.65
4. EMINENCE OIL AND CHEMICALS LTD. (EMMANUEL OKON)
KM 17 P/H -OWERRI ROAD
-62,366,696.43
5. ALIYU, YAHAYA MOHAMMED
128 EKET ORON ROAD, EKET
N58,168,720.62
6. MICHEAL OKON ENYONG
F-LINE, EWET HOUSING ESTATE, UYO
N52,683,736.37
7. EMAH UBONG JOHN
106 UDOIUMANA STREET, UYO
N40,991,747.47
8. TROPICAL TRANSPORT AGENCY LIMITED (EMMANUEL PETER UMOH/UBONG EKAETTE)
HOUSE 10, B CLOSE, 331 GOWON ESTATE, IPAJA LAGOS
N40,608,967.76
9. DM AUTO COY NIGERIA LIMITED (PRINCE EMMANUEL ETUK)
140 AKA ROAD, UYO
N39,097,174.35
10. V & E NIG LTD (VICTOR ETEFIA)
OLUSEGUN OBASANJO WAY, UYO
N34,864,722.96
11. SPRINGFIELD RESOURCES (GOODNESS VINCENT)
78 ATAOBONG ROAD EKET
N29,498,100.00
12. ESSIETS SERVICES
28 UQUA ROAD EKET
ESSIET USUNGINWANG
-26,951,279.58
13. MYM PROPERTIES LIMITED (IDORENYIN OKON/AYANG S.)
31 BROOKS STREET UYO
N24,792,774.55
14. VICTOR MKPONG & ASSOCIATES
PLOT C 26, UBIUM STREET, EWET HOUSING ESTATE, UYO
N23,829,490.37
15. UNIMEK INT'L LTD ( E. E. JAMES / MANDU E. JAMES)
4 NKUBIA LANE EKET
N21,306,614.61
16. WILLEKAM CONTRACTOR & TRADING COMPANY (LAWRENCE EKEMINUA)
6 MBAK ROAD, ANUA, UYO
N19,711,517.10
17. JOMEKSON LINK COMPANY (JONNY IME OKON)
129 UDO UMANA STREET
N17,456,860.54
18. INIBEHE UDOH EKPOH
1 OSONGAMA AVENUE OFF ORON ROAD
N17,210,731.45
19. FRIDAY JOHN UDOUSUNG
UDOUSUNG CHAMBERS NO 5 IKOT EKPENE ROAD ABAK
N15,158,005.31
20. BARR. DAN ABIA
16 EKET ORON ROAD, EKET
N14,090,128.88
21. PALCO LIMITED (CHIEF ETIM EFFIONG)
PLOT 15 UNIT EWET HOUSING ESTATE, UYO
N14,085,304.36
22. DM AUTO COMPANY NIGERIA LIMITED (LEASE A/C) (PRINCE EMMANUEL ETUK)
140 AKA ROAD, UYO
N13,983,149.78
23. ARU NIGERIA LIMITED (OBONG ASUKPA ROBERT UDOEKA)
IWO/UKPOM, IBENO
N13,894,730.59
24. RT. HON. ATUEKONG ANIEDI ABASI UDO
ABAK LOCAL GOVT AREA
N13,166,353.47
25. HON BECKY AKPAN
9 AKA ITIAM STREET, UYO
N12,894,925.49
26. AKWA IBOM STATE SCRABBLE ASSO.
C/O AKS MIN. OF YOUTH & SPORTS, AKWA IBOM STATE SECRETARIAT
BOB IKORIDEM/UFOT EBONG
N12,208,015.47
27. ESSET AND SONS(UDEME ESSET)
5 WELLINGTON BASSEY WAY-UYO
N12,007,901.68
28. ELVISTTA OIL /GAS LIMITED (MR. VICTOR ATTAH)
IKOT AKPAN 11, NSIT UBIUM
N11,918,650.17
29. GOBENDIK INVESTMENT LTD (HON. GODWIN UDOM)
C/O EDINAN HOTELS, AKWAIMA ESTATE
N11,845,701.22
30. MARSSIEN INT'L LTD (MARTHA ANTIAOBONG)
34 NELSON MANDELA STREET, UYO
N11,701,067.59
31. UDOH NDANYONGMONG THOMPSON
60 AFAHAUKWA ROAD, EKET
N11,392,674.33
32. UDAG VENTURES (UDO UDO EKONG)
UKANA UWA EAST ESSIEN UDIM
N11,178,226.74
33. SAMUEL AKPAN ISONGUYO
2 VILLAGE ROAD, MBRIBIT ITAM, UYO
N10,725,695.22
34. FRANCIS CHARLES UDUYOK
IKOT AKPAN ABIA, UYO
N9,639,864.78
35. SAMUEL WILLIAM UDOFIA
46 UDOH STREET, UYO
N9,531,187.78
36. UTOCON LIMITED (MR. NSIMA EKANEM)
PLOT 26 GRA, IKOT EKPENE
N9,322,960.74
37. BASSEY UDUAK INYANGABIA
20 UFERE STREET, EKET
N9,245,335.94
38. PROLAND PROJECTS LIMITED (ANIETIE EDWIN OKON)
4 EKA STREETUYO
N8,770,258.47
39. ANTHONY EDET OKON ANTE
6 EDET AKPAN AVE, UYO
N8,699,411.31
40. AMMAR GLOBAL SERVICES LTD (ALHAJI MOHAMMED)
18 DOMA LAYOUT GWAGWALADA, ABUJA
N8,468,328.97
41. GOLDEN LEAF (NIGERIA) COMPANY (LAWRENCE EKEMINUA)
6 MBAK ROAD, ANUA, UYO
N8,134,477.06
42. COLLETTE RAYMOND ATIATA (EX-STAFF)
L 13 EWET HOUSING ESTSTE, UYO
N7,972,277.84
43. KECHAN &PARTNERS(KATE UDO SUNDAY)
1 HOSPITAL ROAD EKET
N7,708,975.59
44. DELUXE ENGINEERING (NIG)LTD (S.T.ANAMETEMIFIOK)
41 BROOKS STREET UYO AKWA IBOM STATE
N7,486,236.77
45. MID-URBAN REALTIES LIMITED (BARR. INYANG NKANGA)
59 BROOKS STREET UYO
N7,080,740.59
46. SERVICE TOWERS RESOURCES
(MRS IBOTO E. IBOTO)
4 UDOSENKANTA STREET
N6,438,982.84
47. MAURICE ALEXANDER
10 NUNG-ETTE AVENUE, SHELTER AFRIQUE, UYO
N6,290,000.00
48. UPSTAND PROJECT LIMITED (ENGR. VICTOR ANAMETEMIFIOK)
18 OBIO IMO STREET
N6,107,944.23
49. VALUE WATER HOUSE NIG LTD (ATAI ALBERT)
418 ORON ROADUYO
N6,007,752.77
50. ODUDU & CO RESOURCES NIG. (LAWRENCE EKEMINUA)
6 MBAK ROAD, ANUA, UYO
N5,326,880.92
51. FRATIM GLOBAL SERVICES (JOHN USORO)
39 ABA STREET, ABAK.
N5,165,897.65
52. SEDCO ENERGY RES. LTD (EMEM EDOHO)
70 EKET ORON ROAD
N5,144,965.75
53. ZEFA INVESTMENT LIMITED (MRS. ENO SABO)
DUPLEX 15, EXXON MOBIL ESTATE, SHELTER AFRIQUE
N4,819,886.27
54. MR. WILLIAM WILLIAM (EX-STAFF)
10 AKPAKPAN STREET, UYO
N4,802,189.25)
55. UDUAK EDWARD UMOH
117 IBONG ROAD, UYO
N4,800,302.04
56. GASSONS NIG LTD( IDORENYIN EKERE)
272 PH/ABA EXPRESSWAY, PH
N3,814,111.54
TOTAL: (1,156,944,788.71)
SIGNED
MANAGEMENT