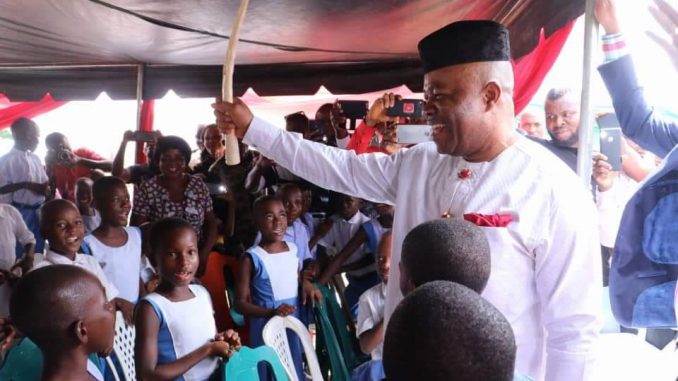 By Covenant Sunday, Uyo
The Akwa Ibom State Chairman, APC National Youth Caucus, Obong Iniobong John has enumerated reasons Civil Servants and Pensioners in the state will continue to pour encomiums on the Former Governor and current Minister of Niger Delta Affairs, Senator Godswill Akpabio.
Obong John stated this in a release made available to the press on Thursday, October 10, citing that "Civil Servants who witnessed the era of Senator Godswill Akpabio as Governor of the state will continue to miss him and wish that he could be brought back to govern the state".
The APC Youth Caucus Chairman hinted that Senator Akpabio introduced what came to be known as AKPABIOMBER, a thirteenth salary in a year paid to workers every December to celebrate Christmas and New Year. The package was institutionalised for the eight years Senator Akpabio governed Akwa Ibom state. But, it was dismantled by his successor, Mr Udom Emmanuel, who saw it as an unnecessary waste of public funds. Akpabio never failed to pay impress to run the various offices.
Obong Iniobong berated the current state Governor, Deacon Udom Emmanuel for wanton and reckless abandonment of certain rights and dues for state Civil Servants. "Unfortunately, under the present administration, Civil Servants hardly receive impress. As a result, the morale among them is very low", he said.
Highlighting further, Iniobong said, "Akpabio never played politics with any of the entitlements of the Civil Servants and pensioners. He was paying them leave grants as and when due.
"He never failed to pay pensioners their pensions and gratuities. But under the present administration, pensioners hardly get their entitlements. In fact, the NLC had to embark on a protest at the premises of the State House of Assembly over the backlog of salaries, leave grants and other entitlements owed its members.
"Akpabio was giving Civil Servants car loans. That's why and how they could afford brand new cars. But under the present administration, they don't enjoy such privileges.
"Akpabio believed and still believes in economic empowerment and development of the people. When he was Governor of the state, he made sure prosperity and wealth was spread to everybody in the state and not what's happening in the present arrangement where only the privileged few are empowered".