Interim Management Committee takes over NDDC
••••As group lauds the decision of the FG on forensic auditing of the Commission's activities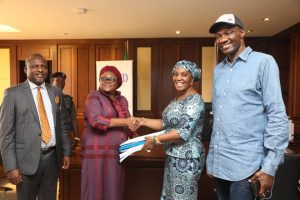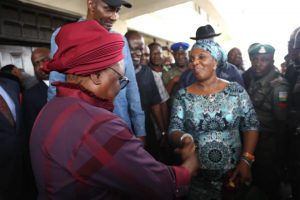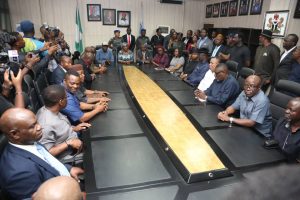 There was wild jubilation in Port Harcourt on Wednesday, as the newly inaugurated Interim Management Committee took over the running of affairs at the headquarters of the Niger Delta Development Commission (NDDC).
Recall that the Minister of Niger Delta Affairs, Senator Godswill Akpabio had on Tuesday, in Abuja, inaugurated an Interim Management Committee for the NDDC to oversee the running of the affairs of the agency during the period of the forensic audit as ordered by President Muhammadu Buhari.
In a brief ceremony at the NDDC headquarters, outgone Acting Managing Director, Dr Onyia Okwagaga, promised to give her maximum cooperation to the Interim Management Committee to execute their mandate.
Acting Managing Director, Dr Gbene Joi Nunieh, thanked the out-gone MD for her services to the Commission and the Niger Delta region.
In line with the mandate handed over to the IMC, Dr Nunieh promised to collaborate with the auditing firms when they are picked to give them an unfettered access to do the job. Dr Cairo Ojorgbo, Acting Executive Director Projects and Chief Ibanga Etang, Acting Executive Director Finance and Administration were also on present during the ceremony.
There was wild jubilation as supporters of the Interim Management Committee lauded President Muhammadu Buhari and the Minister of Niger Delta Affairs, Senator Akpabio for bringing sanity to the interventionist agency.
They said the inauguration of the Committee and the forensic audit of the agency would make it possible for the incoming board to begin on a clean slate.
Leader of the Niger Delta Peace and Development Forum, Comrade Ben Teibowei said, ex-agitators from the region would support any move by President Buhari to move the Niger Delta region forward and commended Senator Akpabio for the bold steps taken so far in repositioning the interventionist agency.
They called on stakeholders to lend their support to the Interim Management Committee in executing its agenda.
The handing over ceremony was witnessed by management staff of the Commission, who also expressed their readiness to cooperate with the incoming interim committee.