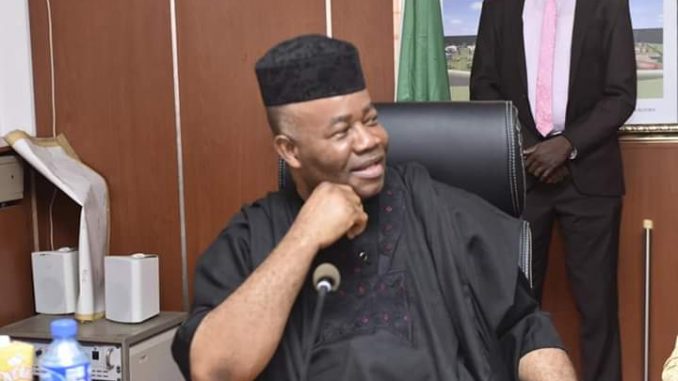 Exposed! How fake APC state party chairmen called for Akpabio's sack
•••We never called for his sack—
Authentic chairmen
•••We have reported the impostors to security agencies- APC
By Jackson Udom
Contrary to sponsored media reports that the Forum of All Progressives Congress (APC) state chairmen called for the sack of Senator Godswill Akpabio as Minister of Niger Delta Affairs, the Forum, through its leaders has denied its involvement  in the said publication saying", the Forum wishes to state categorically that the said publication did not emanate from the Forum".
The Forum's position was contained in a release signed by Alhaji Ali Bukar Dalori and Dr Ben Nwoye, Chairman and Secretary, respectively, described the call as" a concoction of the originators of the fake, malicious and misleading fabrication, intended to embarrass Mr President "
The Forum called on the general public " to discountenance the said publication as due process is being followed to unravel the perpetrators of the dastardly plot of using the name of the APC state chairmen's forum in such a fallacious publication".
"We therefore, restate our unflinching support for the commitment and success of President Muhammadu Buhari ", the Forum concluded.
It would recalled that in the last 72 hours,  two fake groups; Ijaw Youth Congress(IYC) and now  Forum of APC State Chairmen, had issued statements, purportedly calling for the sack of Akpabio as Minister of Niger Delta, because of plans by the Minister to carry out a Presidential directive of auditing the activities of the commission since its formation in 2001.