By Esin Etim Achibong.
The recent outburst by Mr Mike Igini, Resident Electoral Officer on APC Primary Elections in Akwa Ibom State did not come to many people like me as a suprise and his declaration that INEC has rejected Senator Godswill Akpabio as the Senatorial Candidate of APC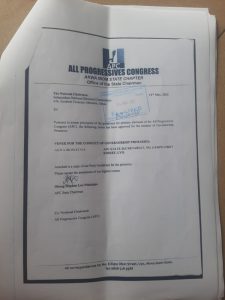 For Akwa Ibom North-west senatorial and Obong Akanimo Udofia as Gubernatorial Candidate did not also come to discerning minds and political players as a surprise.
I make bold to ask, who is Mr Mike Igini working for in INEC? This question has become imperative because Mr Mike Igini over the Years from his days in Anambra, Edo, Rivers and Akwa Ibom as Resident Electoral Commissioner has been surrounded with a lot of bad stories and of double standard of man who is expected to be unbiased in discharge of his Duty. It is time for INEC to look towards Mr Igini. He is a compromised Electoral Officer no doubt, who cannot be trusted as Nigeria march towards 2023 elections. Though he is retiring in August 2022,the PDP Government has promised him to ensure APC is not on the ballots in 2023 forth coming general elections in 2023.
I want Mr Mike Igini to know that He cannot destroy Senator Godswill Akpabio. The truth of the matter is that no matter how you want to bury the truth, falsehood can never gain ascendancy over truth and light. The attempt to smear and perhaps destroy Godswill Akpabio's hard-earned reputation and character by a few egoistic individuals like Mr Mike Igini, both within and outside Akwa Ibom State, will always fall flat when confronted with truth and logic.
To put the records straight, towards the APC 2022 Primary Election, there was Leadership Crisis in Akwa Ibom APC. Two Leaderships emerged after the Party Congress in the State. One of the faction led by Mr Stephen Ntukekpo, which is believed to be loyal to Senator Akpabio and other Faction loyal to Former National Secretary of APC, Senator James John Akpanudoedehe. Senator James John Akpanudoedehe as the Then National Secretary of the Party used the instrumentality of his office to recognise his group and was dealing with them.
The Stephen Ntukekpo led faction went to court. The Federal High Court affirmed their Leadership and before Senator James John Akpanudoedehe led Caretaker Committee left Office after Convention, they appealed the Judgement of the Federal High Court which ruled that Mr Stephen Ntukekpo was legally recognised Executive at the Court of Appeal. After APC Convention that produced Senator Abudullahi Adamu, he withdrew from the case at the Appeal Court and stood with the Judgement of the Federal High Court. That is, the National Working Committee recognised the Leadership of Mr Stephen Ntukekpo Executive and started dealing with them at the State since then.
This is the beginning of INEC REC, Mr Mike Igini, biased attitude to APC in Akwa Ibom. Mr Mike Igini sworn never to recognise Mr Stephen Ntukekpo Leadership and made sure Mr Stephen Ntukekpo did not attend any of his activities as REC in Akwa Ibom. He made it clear to Mr Stephen Ntukekpo that he is an Impostor. Mr Stephen Ntukekpo has not been allowed to attend any Meeting with Mr Igini in Akwa Ibom State. The question is What concerns Mr Mike Igini with Party Structure? Is he a Member of APC in Akwa Ibom? Yet, Mr Mike Igini recognised the other Faction loyal to Senator James John Akpanudoedehe. Is Mr Mike Igini in a position to determine for APC, their Structures in Akwa IbomPrior to APC Congresses in Akwa Ibom and Party Primaries, Mr Mike Igini threatened all INEC staff in Akwa Ibom not to accept any Letter from Mr Stephen Ntukekpo and that any Staff that accepts such letter will be sacked. Many of these Staff fear him so much. So all the Letters sent to the commission in Uyo was not accepted and acknowledged by the Commission. This made Mr Stephen Ntukekpo to complain to the National office and He was asked to be addressing his Letter to the Chairman of INEC at Abuja. After all, the Electoral Act says INEC. They didn't say it must be INEC in Uyo or Ikoto-Ekpene.
When APC issued a Notice to INEC and informed the commission of the Party's readiness to conduct Primary Election. The Party wrote to INEC through its Party Chairman in Akwa Ibom State informing INEC where they intend to conduct their Primary Eections in the State for Gubernatorial and other election. Mr Mike Igini refused to acknowledge the letter and repeated to Mr Stephen Ntukekpo that he is an impostor as Chairman. This made the Chairman to address his Letter to the Cahirman of INEC. Those letters were acknowledged and venues of the Primaries were approved by the Party and Acknowledged by INEC. (See Letter attached here).
On the day of Gubernatorial Primary in Akwa Ibom State. The Gubernatorial Primary Electoral Panel sent to conduct the Primary arrived Uyo Airport and on their way to the Approved Venue for the Gubernatorial Primary at the Party Secretariat as contained in the circular issued to INEC, they were ambushed on their way and kidnapped for almost five Hours, in the Presence of Commissioner of Police who was working with the Hoodlums that attacked the Party Officials. These hoodlums were mandating the Panel to take the Materials to SheerGrace Event Centre for that is the Venue for the Primary which is contrary to the directive of the National Working Committee of the Party. Mr Mike Igini and the Commissioner of Police in Akwa Ibom who were working with Senator James John Akpanudoedehe led faction told the Panel that they must conduct the Primary Election at SheerGrace Event Centre. That if they conduct the Primary at any other venue, he will make sure that the Primary is invalid. Mr Mike Igini as REC and Commissioner of Police were seen at SheerGrace Event during Preparation of the Venue giving orders on how the Place will be. Please it is the work of REC and Commissioner of Police? We all watched APC and PDP Conventions, did anybody see INEC Chairman and IGP during Preparation of the convention and during The proper Primary. (see attached Photos of Mike Igini and Commissioner of Police at SheerGrace which is the Venue of Senator James John Akpanudoedehe led faction).
The question is what concerns INEC, Mr Mike Igini and Commission of Police where and how a Political Party intend to conduct and organise its Primary Election. According to Electoral Act 2022 as amended, it says, "INEC shall monitor…" it never says INEC shall tell Parties where and how to conduct their Primary. The Most important thing for Parties to do is to tell INEC how they intend to go about the Primary and their congress Programmes.
I want the Chairman of Independent National Electoral Commission to query Mr Mike Igini of his involvement in APC Primary? Is he the National Chairman of APC that will choose where APC will conduct its Primary in Akwa Ibom? Why should he interfere in a Political Party activities if he is not compromised? Please who is Mr Mike Igini working for?
Hello Mr Mike Igini, you cannot stop APC from fielding Candidates in Akwa Ibom come 2023 Election. It is very clear to all that you are out to destroy APC in Akwa Ibom. You played this same role in 2019 Election. We will not allow you to succeed this time. This is time to send Mr Mike Igini out of INEC. He is taking more than he can chew. Enough is enough.
(C)nairaland.com