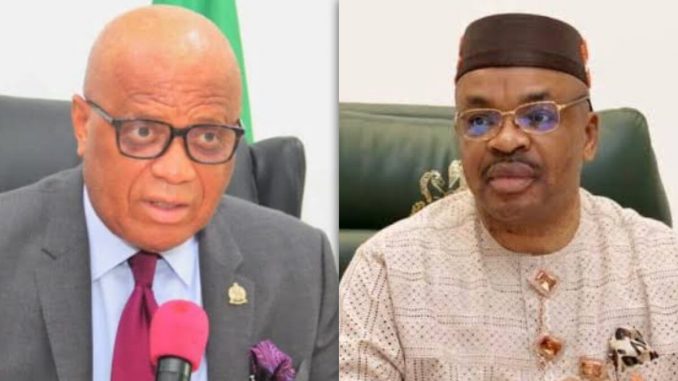 A forensic report has confirmed that the West African Examination Council (WAEC) certificates of Akwa Ibom State governor, Udom Emmanuel's stooge, who is also the Peoples Democratic Party (PDP) governorship candidate, Umo Eno, are forged.
Eno was dragged to court by Akan Okon, a contestant in the May 25 PDP governorship primary, over allegations that he (Eno) is parading forged WAEC certificate in his bid to actualise his governorship ambition.
Okon also joined the PDP and the Independent National Electoral Commission (INEC) as defendants in the case.
SaharaReporters on Friday exclusively obtained a report by forensic experts submitted to the Federal High Court, Uyo, which confirmed that Eno's WAEC certificates were forged.
The report tagged "Forensic Verification of the West African School Certificates Nos 15520232 Issued in 1981 and 15725119 Issued in 1983 to Bassey Umo Eno and Eno Umo Bassey in Annexures B' and F' Respectively" is signed by Prof Jideoni Charles, National President, Institute of Graphoanalysts, Nigeria (IGAN).
Prof Charles, a certified Handwriting Analysis Expert, and Prof Michael Nwokolo, a certified Security Specialist (CSS) Forensic Expert, jointly carried out the forensic investigation on Eno's certificates.
"That the certificate in Annexures 'B' and 'F' were subjected to rigorous scrutiny with a view to cross-validating their authenticity against the certificate contained in Annexures 'A' and 'A1', and the two certificates contained in Annexures 'B' and 'F' to my report were found to be forged copies.
"That the two certificates in Annexures 'B' and 'F' have been proved beyond any reasonable doubts that one is a photocopy of the other mutatis mutandis," Prof Charles stated in the report attached to his statement on oath."
It can be recalled that in an attempt to counter the forgery allegation against Eno, the state government-sponsored media team had shared a result which they claimed was printed out from WAEC website.
However, the forensic report confirmed that the WAEC website used in publishing the PDP's candidate result was fake and even revealed the identity of the person who created the fake website.
"We also noticed that the website, waeconline.org.ng was created by one Olasoji Ajayi with phone number: 08092886858 through a company known as Sidmach Technologies Nigeria Limited. The website of WAEC is waecdirect.org. The obvious errors in Annexure 'H' when compared with Annexure 'J' produced from WAEC website waecdirect.org are manifest as follows;
"The subjects offered by candidates are not abbreviated. The error in writing WAEC provate instead of private candidate is a clear indication of work of an amateur and a product of lack of experience in forgery," the report stated.
The forensic report's analysis specifications further confirmed that the discrepancies on Eno's WAEC certificates earlier highlighted by Akon Okon's legal team were clear evidence that the certificates were forged.
"The name on 1981 certificate is Bassey Umo Eno, the certificate of 1983 bears Eno Umo Bassey while the name of the supposed owner of the certificates is Umo Bassey Eno; and thus there are three different personalities involved here.
"Candidates who wrote the 1981 examination and thereabouts have their candidate numbers starting with 09…… and not 15….. as it is found in Bassey Umo Eno's supposed certificates," Prof Charles noted.
The report further revealed that the signatures of both the Council chairman and Registrar on Eno's certificates are handwritten and not machine auto-printed and therefore not authentic.
"This finding is predicated on the fact that Annexures 'A' and 'A1' signatures are clear-cut, clean-cut, deep-cut evenly heavily loaded with ink while the forged ones are blotted, scarcely leaving any islands within the circled strokes".
The case, which is before Justice Agatha A. Okeke of the Federal High Court, Uyo, will come up again on Monday, August 29.
Source: SaharaReporters.