Four Point By Sheraton Ikot Ekpene And The Many Lies Of Udom E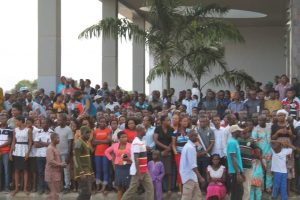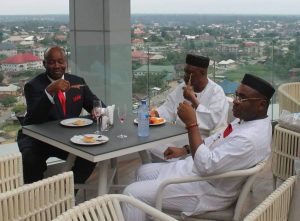 By Okechukwu Obasi
Terrible human beings everywhere!
I watched with shock and disgust, the documentary of Four Point By Sheraton Hotel at Ikot Ekpene on Channels TV last night. This was a project conceived by the urbane government of Senator Godswill Akpabio.
The project was almost completed before the expiration of his tenure.
It is a gigantic and economically viable investment that puts Akwa Ibom State ahead of other states in the whole of old South Eastern Region.
At first, Governor Udom Emmanuel's government considered it worthless not worthy of being touched.
When he realised his foolishness at the twilight of his administration, he reluctantly tried to put it to official use.
Instead of appreciating and publicly commending the person who conceived of the idea and the government that put up the edifice that everyone is commending, he and his aides were on Channels TV last night, gloating and concentrating on how to destroy the Man that made the First Class hotel a reality.
Assuming but conceding that they put some things in place to complete the project, was it right the way they went about the narration without attributing anything whatsoever to the government of Senator Godswill Akpabio that built the hotel to taste?
It was disgusting watching the documentary last night. I felt totally ashamed of Emmanuel and his aides. They were not only childish they were mannerless in refusing to acknowledge the person that built the hotel in the first place.
I have watched them over time do the same thing on Ibom Air, and Uyo- Ikot Ekpene Road that remained only about 20 per cent completion before his government completed it, and on other projects Senator Akpabio initiated.
These were the gigantic projects conceived by Senator Akpabio. They had refused to acknowledge the man's government over anything in Akwa Ibom State since they took over. That it was Senator Akpabio that brought Udom Emmanuel from nowhere to make him governor causes ripples in my whole system. What kind of human being is this fellow?
I had thought that such useless and bitter politics is far from Akwa Ibom State. The truth is that the State harbours the most vindictive and mannerless people in the present day governance of the state. SHAME!
My joy is that Senator Godswill Akpabio remains indelible in the mind of God Almighty, Akwa Ibomites and Nigerians who appreciate him for changing the course of governance IN NIGERIA from 1999 till date. God is greater than them!
The Hotel was fully completed, furnished with 3 turbines generating sets and commissioned. Le' Meridian/Marriott group cooked, entertained the guests which included Udom Emmanuel, who was then the Gov-Elect and then a Deacon of Qua Iboe Church of Nigeria .(see pictures below).
The Holy Book concludes "that Children of this generation are more crafty in dealing with one another than children of Light." Hence God stated emphatically that "His (God's) judgement shall start from the Church".
Nwosu is a concerned Nigerian and Legal practitioner, who attended the commissioning in 2015.