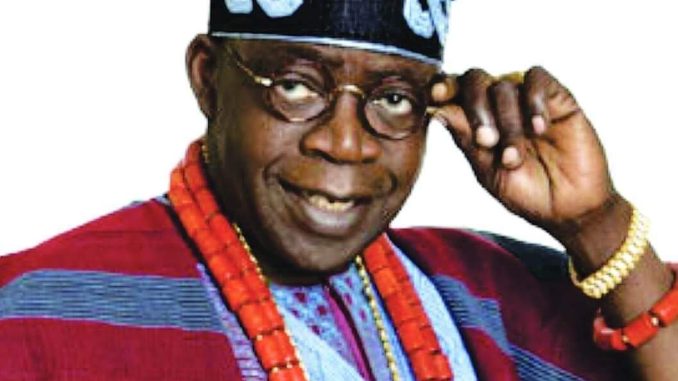 By Ems Adekanye
I have watched with much dismay and disappointment how supposed intellectuals refuse to go beyond the mental blockage of 'Emilokan'.
At first, I found it funny and amusing, while hoping that the joke would go away, but alas, it became a mantra, a melody that resides perpetually in the minds of nincompoop
Asiwaju Bola Ahmed Tinubu, while campaigning for a party position, speaking to party faithfuls made a statement on how it is his turn to get the position on offer because he believed that he had invested massively in the party over the course of time. As such, he felt deserving of the position of the presidential candidacy of his party. HE WAS SPEAKING TO ALL PROGRESSIVES CONGRESS PARTY MEMBERS, NOT NIGERIANS!
It is expected that the party faithfuls should be angry and mad at such level of entitlement if they think it is undeserving. But given the intra-party discourse that followed, most party faithfuls stood by him. And he eventually got the party ticket through hard work, sweat, and grit, not on a platter.
Instead of asking the right questions of all the Presidential Candidates, and getting the right answers, more than a year later, some people still brandish the slogan, 'Emilokan'. Jagaban has never come to Nigerians and told us 'Emilokan', he has instead been campaigning on his deliverables, which many of his detractors admitted to as realistic. I have seen another candidate evade questions at every of his engagements, playing on the emotional intelligence of audiences to get away with it. No one is expected to know everything about anything, but at least know what the discussion is about.
But because the thinking faculty has been clogged with irrelevant inanities, cue 'Emilokan', they can not see past their folly.
Let us do away with distractions and ask the right questions. The Presidency of Nigeria is not a tea party, nor is it a joke. It requires the strictest and hardest job interview with the candidates showing the right curriculum vitae that matches the job descriptions. Nobody will give a plumbing job to a carpenter, even though they may work within the same industry, perhaps at the same working hours, but they have different set of skills.
Nigeria can not afford to make a mistake of leadership at this crucial time. Ask the right questions and vote right.
Adekanye writes from Abuja