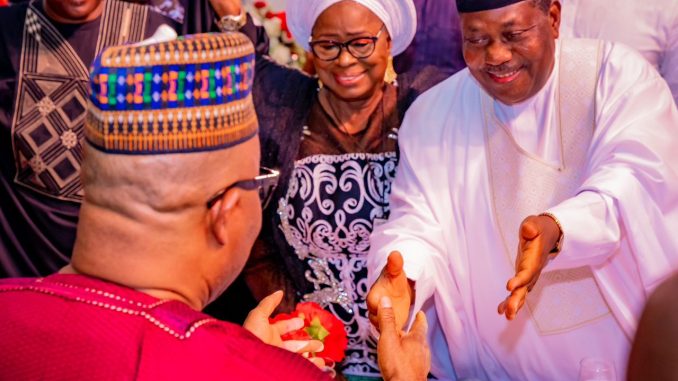 President of the Senate, Godswill Akpabio, has assured Nigerians and the international business community of the readiness of the 10th National Assembly to work with the President Bola Tinubu-led administration to provide an enabling business environment and also make life worth living for the generality of Nigerians.
Akpabio gave the assurance in his goodwill message at the Reception Dinner in honor of the newly appointed Secretary to the Government of the Federation (SGF), Senator George Akume, at the Transcorp Hotel, Abuja on Saturday.
According to Akpabio, " I believe strongly that Nigerians are in for the best of times under this administration. Members of the National Assembly will enjoy a lot of cooperation and support from the Executive because for the first time, we are going to have a very serious accord between the Executive and the Legislature. I see good things coming for Nigerians. "
Speaking further, Akpabio noted, " in less than 20 days in office, the Stock Market has gone up allover the world. The world is already applauding Nigeria. I believe strongly that Senator Akume has a hand in most of the policies that are coming out and you are just starting. You can imagine the celebrations that would come again, in the first 100 days of this administration in office. You are indeed a square peg in a square hole. "
" We are celebrating two things tonight; Excellence and Humility. You are a man of excellence. You leave your mark in everything you do and I have no doubt you are going to leave your mark in the present administration of President Tinubu. Your humility disarms all," he declared.
Akpabio said the 10th Senate would work seamlessly with Senator Akume as the SGF to develop policies that will change the economic situation in the nation.
Speaker of the House of Representatives Tajudeen Abbas, in his message stated, "Senator Akume has a proven track record in coordinating government activities and stringing government, while the Kogi State Governor, Yahaya Bello, described Akume as "a welfarist who puts the needs of others first. His appointment, he noted, 'is an evidence of efficient representation of the North Central in President Tinubu's administration."
In his response, the SGF thanked all the dignitaries for their goodwill messages, assuring Nigerians that he will do his best and he will not disappoint President Bola Ahmed Tinubu and the APC.