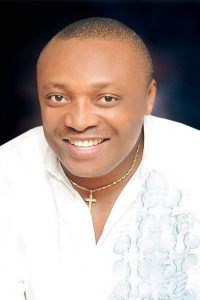 We have noted the irresponsible and contemptuous story circulated online by media mercinaries of Hon. Aniekan Umanah, claiming that one Emem Uboh (Abak/Etim Ekpo/Ika Federal Constituency candidate of Advanced Allied Party) in the just concluded general elections, alleged that the Honourable Member Representing Abak/Etim Ekpo/Ika Federal Constituency, Rt. Hon. Emmanuel Ekon sponsored him to file a petition at the ongoing election tribunal.
Ordinarily, this would not have elicited any response from the Honourable Member Representing Abak/Etim Ekpo/Ika Federal Constituency, Rt. Hon. Emmanuel Ekon but for the fact that it was filled with untruth, fallacies and the mischief concealed therein. If Aniekan Umanah's media puppets had confined their vague machinations to facts, this response would not have been necessary.
We note with a deep sense of consternation that this spurious allegation is coming after Uboh on 22nd April, 2019 during a live radio interview announced in quote "I know that I have spent so much money at the tribunal, but I want you to know that I have voluntarily withdrawn the petition seeing that Elder Aniekan Umanah won the elections clean and clear after a very peaceful and credible elections by the INEC", corroborating yesterday's motion for voluntarily withdrawal which was granted expressly by the tribunal. Therefore the attempt to link the Honourable Member as the sponsor of the said petition he (Uboh) spent money on and voluntarily withdrew, is merely an afterthought and a clear contempt of court process.
Ordinarily, we would have called for the prosecution of Emem Uboh but since we cannot stoop low to engage a serial fraudster and dubious hustler who has a pending case of fraud before a Federal High Court and the Economic and Financial Crimes Commission (EFCC), we wish to state in clear terms that Hon. Ekon abhors criminality and cannot affiliate with or sponsor criminals searching for scapegoats.
We have been reliably informed that this trending story is another deliberate misinformation and mischief aimed at diverting public attention from concerted efforts made by Emem Uboh to defraud Hon. Ekon who did not yield to his antics and the deal struck with Aniekan Umanah who subscribed to his criminal lifestyle ahead of the election tribunal hearing which is set to begin next week. We caution Emem Uboh to tow the path of honour (assuming he has any) and desist from further maligning the character of Hon. Ekon or be ready to face the full wrath of the law.
We do not expect Aniekan Umanah to dwell on brazen mendacity, much less murder facts and decorum in his rabid bid to justify his pyrrhic victory now in search for legitimacy, we are however confident that it can only be short-lived as the tribunal would dispense justice in our favour at the appropriate time.
It is within the purview of our constitutional right that we sought for legal redress over the conduct and outcome of the National Assembly elections in Abak/Etim Ekpo/Ika Federal Constituency and we are ready to convince the Honourable panel with facts. We therefore urge these mercantile political actors to demonstrate respect for court process refrain from activities that could create a chaotic political environment.
Finally, we advise Aniekan Umanah and his people not to belabour themselves with fabrications that portray them as mere jesters trying to hone their skills in comic script-writing. He should get ready to defend his momentary victory at the tribunal and stop behaving like a rain-beaten chicken, crying all over the place about Hon. Emmanuel Ekon, as if the lawmaker is the apparition haunting his life and his impending defeat at the tribunal.
Signed:
AmanamHillary Umo-Udofia, Media Aide to the Honourable Member