See How Lady Rejects Man After His Second Girlfriend Shows Up During Proposal (video)
A video of a public proposal gone wrong has made rounds on social media. The proposal video had gone from a beautiful romantic moment to a caught in the act drama moment for the couple.
In the video, a young man, who was dressed in his academic gown as he graduates from the university, was spotted on one knee proposing to his beautiful girlfriend who was also dressed in her academic gown.
The man had made a decision to propose marriage to his girlfriend using the happy moment of their graduation day, but he obviously was not expecting the surprise that walked in during the romantic moment.
After his girlfriend said yes to the proposal, the couple had hugged each other enjoying the moment, when his other girlfriend came in and exposed him.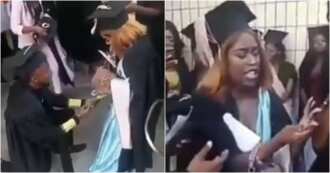 The video showed the man and the two ladies arguing and the lady who was proposed to seemed to be getting more shock with every word the other girlfriend utters. After a while, she was spotted removing the ring she just got and left the scene.
From what was gathered in the video, it seemed like the three were students of the same school and they were graduating on the same day.
Meanwhile, Legit.ng had earlier reported the funny story of a woman who was cheated on. The young lady revealed that her boyfriend had cheated on her with her best friend and they are expecting a baby.
The lady also revealed that her best friend had shammed her when she confronted her, but the real twist happened when another lady came claim
How would you react if your woman rejects your marriage proposal in public?