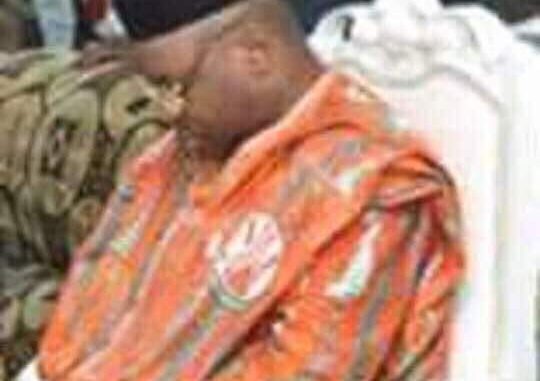 A'Ibom children ply dangerous river in rickety boats to access education
'We've lost faith in government' – Village Head
By Uduakabasi Ikpat/Ofonime Honesty & Joseph Atainyang
Like a fairy tale, told in the days of old, when humanity coped with nature in most catastrophic circumstances, villages exist in Akwa Ibom State, Nigeria, where school pupils would cross a deadly river on a daily basis to access basic education.
School children from four years old are exposed to harsh whether condition as they walk through swamps, get drenched before crossing a fishing settlement to where they acquire education.
Unlike what now obtains in modern cities in Nigeria, where children enjoy the luxury of being conveyed in air conditioned vehicles by parents and guardians to and from their schools, those of Ikot Mfon and Ndiya Usung Inyang communities in Etinan and Nsit Ubium Local Government Areas, respectively, are not so fortunate.
They suffer the risk of drowning in rickety river. Two children were said to have been rescued when a boat mishap happened a fortnight ago leaving them severely injured, after being rescued by a skilled swimmer.
The Ikot Mfon/Ndiya River serves as the boundary between the two communities.
The river is where a popular Catholic Missionary identified as Reverend Father Fintan drowned while spreading the gospel of Christ as far back as the late 1800s. His tombstone stands on the river bank.
The children attend Goodnews International Nursery School, Ndiya Usung Inyang; Qua-Iboe Church Central School, Ndiya and Comprehensive Secondary School, Ndiya. Meanwhile, the only educational institution available in Ikot Mfon community is the Saint Francis Catholic Primary School.
Ikot Mfon is in Ward 2, in Etinan. It has no social amenities like electricity, motorable roads, and having been cut off from the conjoined Ndiya community of Nsit Ubium LGA, has no attraction to its local market, where petty traders gather to sell their wares.
Inhabited by local farmers, fishermen and artisans, and subjected to unfavourable conditions, the community is unhappy at the level of abandonment by government. They condemn a situation in which government officials would come to them during elections period, take their votes but run back to the state capital, Uyo, as soon as the political period was over.
Speaking with our team, the Village Head of Ikot Mfon, Eteidung Oscar Ekanem said the road from Ndiya which links the bridge to his community existed before the civil war.
Eteidung Ekanem said it is a federal government road leading to Ikot Ubo and also to Abak town. He lamented that the collapsed bridge had long failed without efforts to get it reconstructed, until the year 2016 when a lorry loaded with about 80 bags of kernel fell into the river, destroying the dilapidated bridge in the process.
Eteidung Ekanem, who spoke through village council chairman, Obong John Williamson stated that all four persons on board perished in the river, including a police officer, with only one survivor.
His words, "The road had been there before the civil war. We don't have government attention here. They only come here when they need our votes. But after every election, they would leave us and run back to Uyo.
"That river has consumed many persons. All four persons died, except one in 2016 when a kernel merchant wanted to cross the bridge with about 70 or 80 bags of the product. The police officer who came with them also died. It was published everywhere in the media.
"The whole of this Ward II does not have electricity. When they brought electricity here, they diverted it to Udom's (the governor's) side. We shall never be part of this system again. We are not Ikot Mfon (grace family). They have counted us out of everything they are doing.
"I am calling on the federal government to come to our rescue, knowing that the state government has no good intention towards us. They have come for inspection over 30 times. Nobody is doing anything about it. We are crying daily because of our children. Please, tell the government to come to our aid", the visibly emotional man concluded.
Aligning his views with that of Eteidung Ekanem, a family head in Ikot Mfon, Obong John Francis Aaron observed that the situation is deadly, especially as children are daily crossing the river to acquire education, adding that it also affects the women who engage in commercial activities.
The Youth Leader of Ikot Mfon, Mr Francis Udofot and Celestine Johnson, a youth of the community, decried the anguish they experience in the area. They said the community boasts of human capital that engages in agro based activities, as they are blessed with enormous vegetation and arable land. They mentioned that they have crude oil and oil palm.
Our team spoke with school children who shared their thoughts on the circumstance. Happiness Anietie and Maurice Etuk are Basic 5 pupils of the Goodnews International Nursery School who said they are always scared while crossing the river.
Grace Peter, Basic 4, and three children of the same parents: Mary Patrick, Matthew Patrick and Gabriel Patrick of Basic 3, 2 and 1 all from Usung Esuk of Ikot Mfon village called on the government to step into the matter and safe them from imminent danger.
Market women, including Comfort Morrison from Ikot Ante, Bibiana Michael from Ikot Mfon and Eno Evangelist from Ndiya lamented that their businesses which hitherto had flourished, was currently crumbling after the collapse of the linking bridge. They informed that their fare is always N100 to cross over to another side of the road.
Meanwhile, a local miner of sharp sand, William Jeremiah, together with Ekomobong Samuel told our team that the two communities have been living peacefully ever before the bridge collapsed. They narrated that many people do not find it easy to cross the water.
They maintained that the school children would even stand in the rain for a long time and sometimes return home when there is no canoe to paddle them to the other side.
However, the federal government under the administration of President Muhammadu Buhari has constantly been announcing her interest in developing the local communities and linking them up with cities to boost economic viability. The government has promised to prioritize the development of every part of the country.
In his Democracy Day Address, President Buhari repeatedly stated that his government would ensure the construction of critical feeder roads in the local areas so as to facilitate the transportation of food and other commodities.
Meanwhile, the member representing Etinan Federal Constituency, Barr Onofiok Luke could not respond to the development as calls and text messages sent to his cell phone attracted no feedback.
Ikot Mfon Community is however blessed with prominent scholars like Prof Ntiero Umoren of the University of Uyo and the late Dr Dennis Umoren, while the neighboring Ndiya of Nsit Ubium is blessed with the former Akwa Ibom State Secretary to Government and Managing Director, Oil and Gas Free Zones Authority, Mr. Umana Okon Umana, as well as Mr Inyang Unya.
Their people called on them to properly relate with relevant government agencies in order to wipe their tears away.