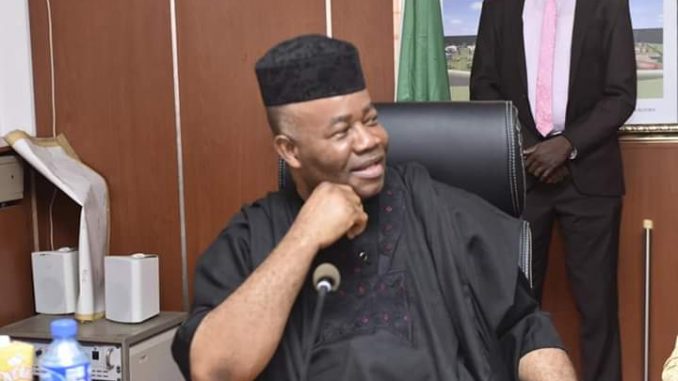 The leadership and entire membership of the Godswill Obot Akpabio Loyalists and Supporters (GOALS), have watched with rapt attention the ongoing campaign of calumny and falsehood unleashed by the opposition against the person and office of the Hon Minister for Niger Delta Affairs, Senator Godswill Akpabio. The campaign has been unrelenting before and after his appointment as a member of the Federal Executive Council and is aimed at making him lose focus from his assignment by Mr.President.
Let us assure the mischief makers and their sponsors that devilish antics will not, as far as we know, deter the former governor from carrying out the mandate handed down to him by his boss, President Muhammadu Buhari.
In the light of all these,
1. We wholeheartedly thank President Muhammadu Buhari for his passion towards developing the Niger Delta region and hereby reiterate our unwavering support for the appointment of Senator Akpabio as Minister of Niger Delta Affairs. By that appointment and by recently meeting with state governors from the region, Mr President's seriousness towards reforming institutional bureaucracies and develop the region is not in doubt.
2. We, therefore, call on well meaning Nigerians, particularly our kinsfolk from the region, to maximally support President Buhari's Niger Delta policy plan that is unraveling to comprehensively audit existing structures and overhaul the projects delivery system with a view to eliminating deficiencies, strengthen all weak links and bring about sustainable development of the region.
3. Any comprehensive audit process must start with self introspection. Our struggles for emancipation from subjugation, environmental blight and economic deprivations is still fresh in our memories and must become our impetus for growth and development by lawful and peaceful means. Although we are not yet out of the underdevelopment woods, we are making slow progress. Significant growth and development have eluded the region because of systemic rot and mind boggling corruption schemes that over the years have become widespread within the Niger Delta Development Commission (NDDC).
4. While meeting with leaders of the nine Niger Delta States on Thursday, October 17, 2019, an obviously concerned President Buhari spoke frankly about failures of the NDDC that have registered since its establishment several years ago. As responsible Niger Deltans, we completely agree with Mr. President and are willing to contribute our quota so that timely and effective reforms are implemented towards the sustainable development of our region. Like Mr. President, we are fired up and ready to assist both the Hon. Minister of Niger Delta Affairs, Senator Akpabio, and the management of NDDC unto great success.
5. Regretfully, we have observed a well oiled machinery set up by some politically exposed persons, groups and even a few unfriendly state governments to perpetrate campaigns of calumny and falsehood aimed at frustrating and disrupting Mr. President's agenda for the Niger Delta. Unfortunately, these are persons and groups who have either benefited or are benefiting from the systemic rot and multifaceted corruption schemes underscoring underdevelopment of the Niger Delta region. Their methods include envy, planting bogus or fake stories on print and social media, hate mongering, mobilization of hoodlums for senseless protests and politically motivated violence among other antics. Like President Buhari, we are not intimidated by the unconscionable actions or inactions of these shameless enemies of progress and hereby warn them to cease and desist. By every legitimate means available to us, we will join with law enforcement agents and other reasonable Niger Deltans to track, frustrate and defeat the machinery of deep corruption and enemies of progress.
6. We are confident that Senator Godswill Akpabio is a fit and proper leader, who has the skills set, experience and all other qualities required to bring about a world class infrastructure and economic transformation of the Niger Delta region. The onerous task given to him, which is mixed with high levels of expectations from Nigerians, will not be done by way of witch hunting any public office holder, but by focused and firm leadership, by transparency in due processes and with an unbending support from President Buhari and all Niger Deltans. We, therefore, call on Senator Akpabio to keenly maintain focus on his national duties and be resilient against the enemies of progress.
Signed:
Comrade Mfon Patrick
Publicity Secretary