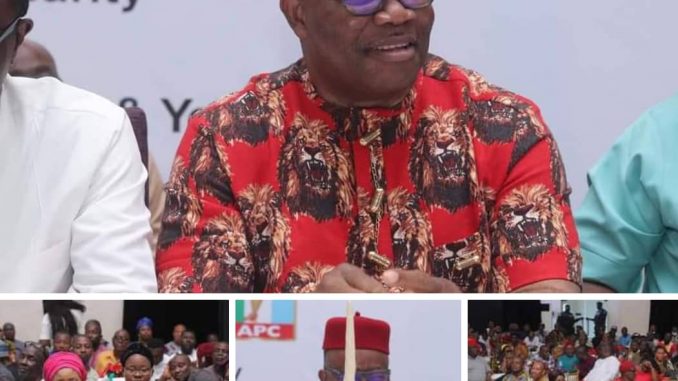 We have been inundated with calls from party members and supporters of Senator Godswill Akpabio, about the misinformation currently making the rounds that Senator Akpabio, did not take part in the last Senatorial Primary and couldn't have emerged the candidate of the party for the Akwa Ibom North West District.
For the information of purveyors of lies and falsehood, as well as their collaborators in mischief, Senator Godswill Akpabio fully partook in the rescheduled Senatorial Primary on the 9th of June, 2022.
The 9th June, 2022 fresh Senatorial Primary which Senator Akpabio partook was at the instance of the National Working Committee(NWC) of the party, based on the report that the May 28th 2022 Senatorial Primary, which took place at the Ikot Ekpene Township Stadium, (approved venue by the NWC of the party), which was won by Obongemem Ekperikpe Ekpo, was marred with violence.
At the rescheduled Senatorial Primary, which took place at the Skill Aquisition Centre, Ikot Ekpene, the winner of the cancelled Primary, Obong Ekperikpe Ekpo, voluntarily withdrew from the contest and called on all his delegates to cast their votes for Senator Akpabio.
With his withdrawal, the contest for the Senatorial ticket was among three contestants namely; Retired DIG Udom Ekpoudom, Senator Godswill Akpabio and Engineer Joseph Akpan.
At the end of the Primary election, Senator Godswill Akpabio, was declared winner with 478 votes, while DIG Ekpoudom had 3 votes and Engineer Akpan,1 vote.
It is therefore, preposterous for anybody or group of persons to compare the emergence of Senator Akpabio as the Akwa Ibom North West Senatorial candidate, with the emergence of Senate President Ahmed Lawan in Yobe State.
No matter how hard they fight to stand the the truth on its head, Senator Godswill Akpabio, CON remains the duly elected candidate of the APC for the Ikot Ekpene Senatorial District and by the special grace of God and the support of the good people of the district, he is the next Senator of the district.
Mr Jackson Udom,
Chief Press Secretary To Senator Godswill Akpabio.