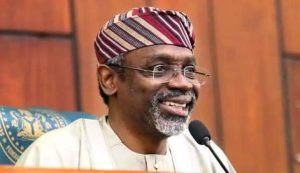 The All Progressives Congress(APC) preferred candidates for the leadership of the 10th Senate, Senators Godswill Akpabio and Jibrin Barau, have described the appointments of Senator George Akume and Rt. Hon Femi Gbajabiamila, as Secretary to the Government of the Federation and Chief of Staff to the President respectively, as putting the round peg in a round hole, based on their antecedents and experiences in public offices.
The preferred candidates also thanked President Bola Tinubu for appointing two of their former and serving colleagues into decisions making positions in his government, assuring the president that the two former lawmakers would bring to bear their cherished experiences in public positions and assist him actualise the much expected Renewed Hope for Nigerians.
The congratulatory and thank you messages were contained in a statement issued by the Media Unit of the Stability Group of the Akpabio/ Barau Campaign Organisation and made available to newsmen in Abuja.
The statement stated, "we congratulate our former colleague, Senator George Akume on his appointment as the SGF. This is a well deserved appointment for a man who has garnered a lot of experiences as a two-term governor, a ranked Senator and just recently, Minister of the Federal Republic of Nigeria. Akume is bringing to the table wealth of experience that would assist the President achieve his programme of Renewed Hope for Nigerians in the years ahead".
In the same vein, "let us also congratulate one of our finest legislator and serving colleague, Rt. Hon Femi Gbajabiamila on his appointment as the Chief of Staff to the President.His appointment into the sensitive office of the CoS to the president comes with a lot of responsibilities and sacrifice, but we are confident that his over 20 years experience in the legislative arm of government would go a long way into assisting the president in actualising his programe."
"Finally, we thank our dear president on these appointments. It is a clear demonstration of the fact that he is in a hurry to make life comfortable for the ordinary Nigerians. It is also a demonstration of his knack for quality and competence."