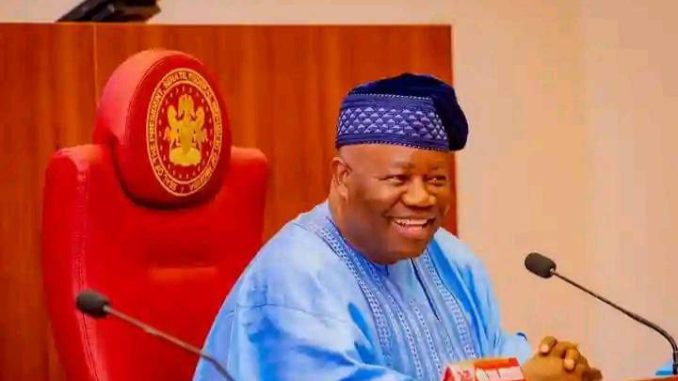 To engender all-round development and economic prosperity in the country, concerted efforts must be deployed to remove Nigeria from the shackles of a mono-economy.
This, according to the President of the Senate, Godswill Akpabio, will be done through government's committed focus to other chains of the economy like agriculture, solid minerals, and other revenue generating nets to boost the GDP and rescue the country from its hyper-inflation situation.
Akpabio stated in his remarks at the 2023 Convocation Ceremony of the National Institute for Legislative Studies (NILDS)/University of Benin Post-graduate Programmes.
Represented by Senator Muhammad Sani Musa, representing Niger East Senatorial District, the President of the Senate noted that the direction of President Bola Tinubu's administration to shoring up the revenue base of the country is the way to go to realise the yearnings of the people.
He also reassured the commitment of the 10th National Assembly to developing ideas of change and prosperity that will support the Renewed Hope Agenda for the delivery of good governance to Nigerians.
Akpabio said, "I identify strongly with the Convocation Lecture: Improving Revenue Generation and Expenditure Management: Issues for Consideration. Revenue generation and expenditure management are the twin wings which drive development.
"As the governor of Akwa Ibom State, I left a trail of development which led to the good people of the state describing what they saw as uncommon transformation. To increase our revenue base, we must break the shackle of a mono-economy.
"Decades ago, Nigeria was the world's largest producer of the following agricultural products; cocoa, palm produce, groundnuts and others. We had groundnut pyramids in the north, the cocoa houses in the west, and palm plantations in the east. I believe that if we go back to these agricultural products and add them to our oil earnings, our revenue generation will be boosted.
"All the same, we should know that if the Government spends more than its revenue, it is bad for our country. Which was one of the reasons the petroleum subsidy had to go. Spending more than its revenue leads Government to three choices; raising taxes, printing more money or borrowing from loan sources. None of these options is good for any country. So, we should not put ourselves in that tight corner.
"Thankfully, the Bola Tinubu government has shown a commitment to increasing our revenue generation and effectively managing our expenditure. We in the National Assembly, in our oversight function, will also act to ensure that parastatals and agencies of government are in step with the expectation of the Tinubu Administration and Nigerians in expenditure management," he noted.
The President of the Senate further stated that the NILDS/UNIBEN programmes were designed to train men and women who would deepen Nigeria's democratic experience and hold aloft the banner of democratic ideals.
According to him, "Rest assured that you have a ready partner in the Tenth Senate and the National Assembly. To change the fortunes of our country is a task we are committed to and a task that must be done."