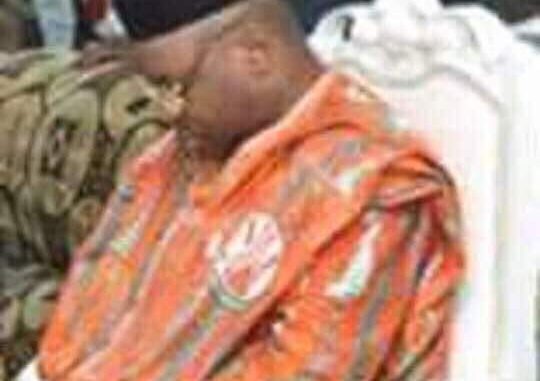 9
By Ofonime Honesty
I have come to the pathetic realization that Akwa Ibom State has retrogressed beyond immediate salvation. Contemporary goings-on even indicate that we have speedily retrogressed to the depths of insanity.
Akwa Ibom has become an absurd theatre where the powers that be boldly perform insane stunts to the chagrin of the exploited masses.
Only those who still have some iota of courage and decency within, and those whose brains have not relocated to the stomachs, would openly frown at this evil plot to further impoverish the generality of Akwa Ibom people.
At a time like this, hitherto patriotic voices are silent or endorsing the anomaly. Hunger being the most potent weapon of the Udom Emmanuel administration has forced many comrades to exchange activism for stomach infrastructure.
The faint murmurs of the few brave ones among us scare not our oppressors. Any hope or semblance of hope appear rather nonexistent.
Well, for anyone in the dark on the essence of this piece, I hereby reference the fact that Governor Udom Emmanuel and the 31 Local Government Council Chairmen in the state have beaten their chests, vowing to make heavens fall now that the National Financial Intelligence Unit (NFIU) has decided to activate financial autonomy for Local Government.
"Who does President Buhari think he is? To hell with NFIU! I singlehandedly installed these council chairmen; nobody will ever decide what my chairmen receive every month", I hear an enraged Governor Emmanuel talking tough in God-knows-where.
Poom! Poom! Phone rings. Governor phones Barr. Uwemedimo Nwoko, State Attorney General (as he then was). An action is quickly formulated and implemented. Mr. Nwoko rushes to court, files for a restraining order against NFIU on the issue.
The 31 Local Government Council Chairmen in the state signed the petition, and were joined in the suit as Plaintiffs alongside the state government.
Justice A. A. Okeke of the Federal High Court, Uyo, however, declined to grant the request in the suit with registration number FHC/UY/CS/88/2019.
The court adjourned the matter to June 21, 2019 to hear all pending applications.
Ouch! One would have thought that at this stage of our existence, no one will hesitate supporting any tangible initiative fashioned to take development and prosperity to the grassroot.
Nigeria's bicameral National Assembly, at some point needed at least 24 Houses of Assembly in Nigeria to ratify its proposal for amendment of clauses in the constitution to grant autonomy to local government.
The Akwa Ibom State House of Assembly under the Speakership of Barr. Onofiok Luke infamously aborted the proposal, hence justifying his description of the Assembly as an Iron Seal of Udom Emmanuel's Executive Arm.
In December 2017, Barr. Uwemedimo Nwoko, at a stakeholders meeting on the proposed alteration of some sections of the 1999 Constitution convened by the Akwa Ibom State House of Assembly, divulged thus: "The Akwa Ibom State government is against it (financial autonomy for Local government).
There is nothing wrong with the joint account. What we should look at is not to abrogate the joint account, but to fine-tune it. Any attempt to create financial autonomy for the local government will collapse."
The Local Government Areas in the state have literally become wilderness. The places we come from are nothing but deteriorating entities populated by poverty stricken folks whose only hope lies in shouting copious 'Amen' to marathon prayers offered in local churches.
No social amenities, no nothing. Health centres have since become abandoned monuments, with the few partially active ones best described as death chambers for patients. Maternal and infant mortality on the rise due to waning healthcare delivery in the forgotten corners of this state.
Our plenty bad roads have since become drunk with blood of innocent masses. Many schools in our rural communities have dilapidated to gory levels.
To worsen matters, full-blown crises have broken out between council chairmen and councillors. Tales of fisticuffs in councils are rife.
Weeks ago, yours truly alongside his colleagues: Koko Robson and Michael Etok, went to Governor Emmanuel's hometown of Onna, where the council boss had allegedly sent thugs to maim councilors for demanding to know how much allocation was sent by the state government.
The Onna Legislative Council and the maimed councillors were in pitiable condition.
Similar scenarios are replicated in other Local Government Areas of the state.
The mess of a governor we currently have is underlined by the frequent thanksgiving services organized by his administration. Thanksgiving for milking the state dry? Thanksgiving for sacrificing our hard earned commonwealth on vote buying?
Thanksgiving for having nothing to show despite being the highest federal revenue earner in Nigeria? Thanksgiving for making Akwa Ibom the number one ranked state in HIV prevalence rate, cost of living, out of school children, et al?
As far the LG financial autonomy is concerned, one would have expected the powers that be to at least sound sensible while opposing it. Barr. Nwoko, who, a couple of years ago had revealed that the state is against the autonomy, recently came out to say that the state is only opposing certain clauses in the NFIU guidelines.
Sir, opposing "certain clauses" means that you are faulting the autonomy. Stating otherwise sounds unconvincing, and rather paints you as someone trying albeit futilely to different between half a dozen and six.
I listened with trepidation the other day as two council chairmen went on air to say that absence of banks in some local government areas is why they are in court, challenging implementation of the autonomy. But these are people who have given no excuse for having personal bank accounts. God, they no longer sound sensible!
I look at their faces and see men and women who have exchanged common sense for a plate of porridge. I see men who have converted where we come from into petty entities. I see men who have deliberately chosen to be remote controlled by the governor.
Of course, sometime ago, the chairmen took delivery of Prado Jeeps procured for them by the governor.
Reacting on behalf of his colleagues, Chairman, Association of Local Government of Nigeria, Akwa Ibom State Chapter, Mr. Frank Archibong, confessed that they (chairmen) are tied to the governor's umbilical cord.
"We are tied to the umbilical cord of His Excellency and we must redouble our efforts in ensuring he emerges victorious come 2019", he famously declared.
Council chairmen starved of funds by the governor suddenly received cars procured with a fraction of their statutory allocation. That's how slavery manifests in my state. Of course, lackeys were installed by the governor as council chairmen.
The governor's wife biological brother, Mr. Ubong Idiong, holds sway as the council boss in Oruk Anam. In Etinan LGA, Mr. Cletus Ekpo, who is the biological brother to Mr. Paul Ekpo, PDP State Chairman, is the council chairman. Yes-men were also installed in other LGAs.
As the rapacious antics of the Udom administration continue, one may wish to preview what posterity has in the offing for the dramatis personae.
Faced with the legendary submissions of John F. Kennedy: "When at some future date the high court of history sits in judgement on each one of us, recording whether in our brief span of service we fulfilled our responsibilities to the state, our success or failure in whatever office we may hold will be measured by the answers to four questions: Were we truly men of courage? Were we truly men of judgement? Were we truly men of integrity? Were we truly men of dedication?"
In this regard, history will judge Governor Emmanuel and the 31 LG Chairmen harshly. Posterity will define them as demons who connived to jeopardize progress, development and economic liberation of the grassroots.
Decades into the future, Akwa Ibom people will suffer the consequences of this act. Bookmark their names and engrave their faces, these are men who have been inducted into the hall of infamy!
(Ofonime Honesty writes from Uyo, Akwa Ibom State. honestyofonime@yahoo.com)