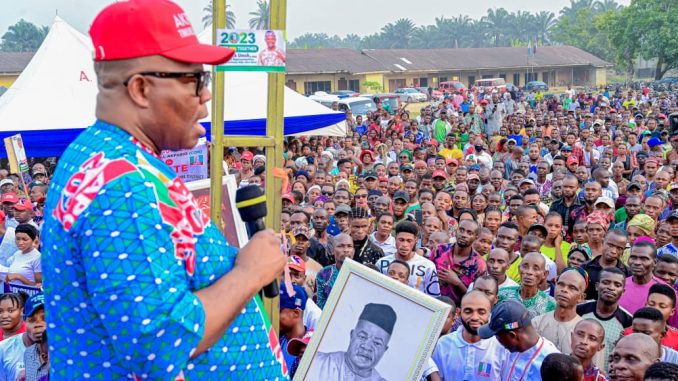 The All Progressives Congress (APC) candidate for Akwa Ibom North West Senatorial District, Senator Godswill Akpabio, has described as a ruse the rumour being peddled from the camp of his former aide, Emmanuel Enoidem that he has stepped down from the Senatorial contest.
Reacting to the rumour in a statement through his campaign organisation, Senator Godswill Akpabio, described the rumour as a sign of defeat from the camp of the opposition who are afraid of their imminent rejection by the people at the poll on Saturday.
The statement which was signed by the Senator Godswill Akpabio Campaign Organisation Media and Publicity Directorate reads:
"The Senator Godswill Akpabio Senatorial Campaign Council is privy to unfounded rumours currently in the baking oven of the desperate PDP senatorial candidate of Akwa Ibom North West Senatorial District, insinuating that Distinguished Senator Godswill Akpabio who is the candidate of APC is contemplating stepping down for their upstart candidate in the national election billed for Saturday.
"The campaign council considers the insinuation not only laughable, but an irony that both their conscience and wide acceptance of Senator Akpabio are beginning to dictate to them the honourable option in the face of the imminent and ignominious defeat of their candidate.
"It is clear to all and sundry that the ward tour undertaken by Senator Akpabio in all the wards of the senatorial district served as a referendum for what the people want and whom they are willing to support in the election of Saturday.
"The massive turn out at the venues of the ward tour and the effusive outpouring of affection for Senator Akpabio are realities no propaganda and falsehood can drown.
"The campaign council appreciates the frustration and fear occasioned by the massive acceptance of Senator Akpabio and understands clearly why the opposition is in overdrive with lies and despicable videos of members of his  household who are the enemies referred to.
"We are aware that the coordinated attack which is led by his direct beneficiaries and cousins is not just politics but a fulfillment of the Scripture which, however, offer greater assurance of ascension. As a campaign council, we are not perturbed by these distractions. The mission of the APC candidate, Senator Godswill Akpabio is to prosecute an election that would bring greater  good to the greatest number.
"In view of the above, we advise our supporters who are waiting anxiously for Saturday when they would turn out in their numbers to vote for Akpabio, to ignore the insidious message that the uncommon transformer is contemplating a withdrawal. If anyone is to withdraw, it would be the rookie who wants to go to the Senate on an ego trip to experiment with our collective destiny.
Directorate,
Media & Publicity,
Senator Godswill Akpabio Senatorial Campaign Council.