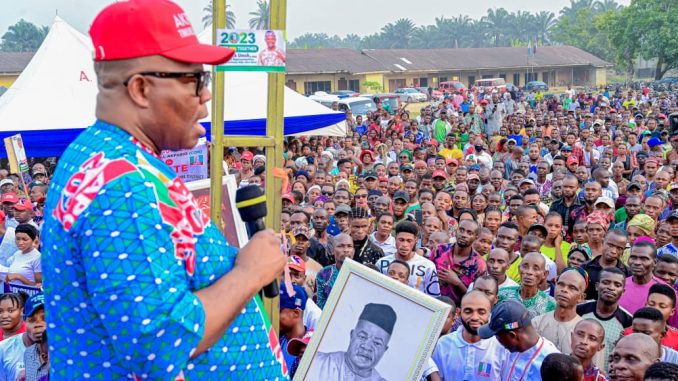 By Jackson Udom
My attention has been drawn to an overtly sponsored article written by one Nsikak Ekanem, a freelance journalist with a highly respected news outfit; The Independent Newspaper, which only about a year ago, recognised the administrative prowess and achievements of former Minister Niger Delta Affairs, Senator Godswill Akpabio in public offices, with an Award of Excellence.
The said writer with the above headline, in his attempt at x-raying the different contenders for the seat of the Akwa Ibom North West Senatorial District in the 25th February poll, ended up exposing his biase and highly compromised mind to the public.
Going through the said article, which ended up stating little or nothing about the subject matter, which he attempted to dwell on, one is confronted with the stunning reality that Nsikak Ekanem, is actually working for a particular candidate to the exclusion of others,thus negating the content of his analysis .
The introductory part of the highly compromised article said it all when it said: "Except some sort of magic crept (sic) into the electoral processes, one does not need the power of clairvoyance or the flames of the Pentecost Day before predicting that Akpabio is likely embarking on the second missionary journey of failure to return to the Nigerian Senate."
With the above mind set of Nsikak Ekanem, it was evident that he was all out to do the bidding of Emmanuel Enoidem without any regard for objectivity or consideration for other contenders in the trash he claimed to be an analysis of the potential winner.
I am of the strong belief that Senator Godswill Akpabio and Enoidem are not in league for whatever reasons and are incomparable no matter the strand of measurement that is used. They are poles apart in character, attitude, capacity, acceptance and performance in public office. Therefore, trying to compare Enoidem who was Akpabio's aide for well over eight years, is like comparing Light and Darkness, Apple and Grape, Blessing and Curse, Black and White.
Ordinarily, I wouldn't have wasted my very productive time in writing this rejoinder, but for the need to set the record straight between Akpabio and Enoidem, as incomparable individuals.
Instead of Nsikak Ekanem, who has suddenly turned himself into the mouthpiece of Enoidem in the Independent Newspaper, to focus on what and what the various contenders are bringing to the table and their antecedents in public office, which is what journalism is all about, he allowed his crave for money to becloud his sense of judgement as a journalist and went on a dubious frolic he christened "Who wins Between Akpabio, Enoidem", blinding his eye to Emmanuel Ekon, who is more productive than his paymaster in public office, indicating that his target was Akpabio.
For the records, Akpabio is a Lawyer of over 35 years experience. He made his marks as a private sector player in the telecommunications industry as the MD of EMIs Communications, an outfit that was part of those who brought the first wireless telephone service which metamorphosed into the GSM we now celebrate all over the country.
Akpabio's performance and achievements in public service as a Commissioner, Two-term governor, Senate Minority Leader and Minister of the Federal Republic of Nigeria are stenciled in the minds of progressive and development loving Nigerians and one million Nsikak Ekanem and his pay masters can't change that history.
Akpabio is not in contest with his former aide for ego, but because he is the choice of the majority of the people of his district and that was publicly demonstrated by the people during his recently concluded ward to ward tour of the senatorial district. Nsikak Ekanem in his highly compromised analysis decided to be blind to this reality because he must satisfy his paymaster, Enoidem.
Let me also stress that no matter the number of sponsored blackmail, name calling, falsehood and lies peddled against Senator Akpabio by media undertakers as represented by Nsikak Ekanem, Senator Akpabio will win Enoidem anytime, anyday in a free and fair contest. They succeeded in rigging him out in 2019 because it was the era of "carry go". The election on Saturday is BVAS driven, which is the game changer. Every legal vote must count and that is why media contractors and executioners are being engaged by Enoidem to spew inanities against their political nightmare; Akpabio.
What has Enoidem done for the people of the district through out his age-long stay in the corridors of power? What has Akpabio and Ekon done for the people of the district while in office? These are things I expected Ekanem to dwell on in his so called analysis. Even Enoidem cannot match Emmanuel Ekon, in the delivery of dividends of democracy to his people, not to talk of the uncommon transformer whose performance and achievements are seen all over the nooks and crannies of the state. In the upcoming election, Enoidem would only come a distant third because contenders are few.
In conclusion, let me state clearly that, Akpabio's senatorial ambition is not only being supported by APC members, his acceptance cuts across party lines. In the local parlance, Akpabio's return bid to the Senate is described as community project loosely translated in local parlance as "Utom Idung" and Ekanem and his paymasters should let that sink as they prepare to join us at the victory party Saturday night by the special grace of God.
Udom is Chief Press Secretary to Senator Godswill Akpabio