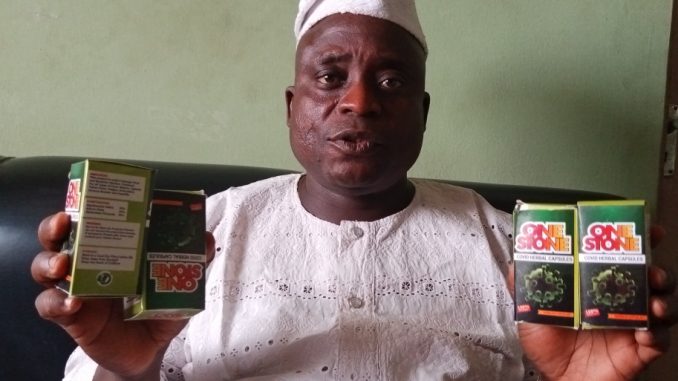 By DAPO FALADE
A trado-Medical practitioner, Alhaji Sulaiman Lawal, has called on the Nigerian government to look inward for solution to the COVID-19 pandemic, claiming that he has cured over 500 people who were infected within the country and some other parts of the world, using herbal products.
Lawal, who said his product have the approval of NAFDAC, said the product, "One Stone COVID Herbal Capsule", has the efficacy to cure COVID-19 and other related diseases.
The Ogbomoso-Oyo State born trado-medicine practitioner said, with the herbal capsule, he has treated over 500 patients across the world.
He said, apart from COVID-19 drugs, he has also manufactured drugs that can cure asthma, diabetes, tuberculosis, cancer, liver and kidney problems, hypertension and hypotension, among others.
Lawal claimed he inherited the knowledge from his father at a tender age, adding that he was among the herbal traditional practitioners that were contacted by the National Institute for Pharmaceutical Resarch and Development (NIPRID) in Abuja and other government agencies for solutions to some dreaful ailments.
Apart from curing the deadly COVID-19 virus, parts of the capacities of the drug, "One Stone COVID Herbal Capsule", according to Lawal, include: antioxidant function, immune booster, efficacy to cure and prevent the airborne viruses.
He attributed the spread of the pandemic to the inability of government at all levels to properly engage and trust the trado-medicine's efficacy.
"The government has failed to acknowledge the efficacy of trado-medicine in providing adeqaute solutions to the virus and other deadly diaeases. I don't really blame the governments. It is due to the influx of fake herbal medicine practitioners who are hyping their junks.
"They hype their products in order to feather their own nests. For instance, my products are approved by the National Agency for Food, Drug Administration and Control (NAFDAC)."
He commended the government for their efforts so far, but emphasised his readiness for negotiation with the government, organisations, private entrepreneurs and individuals in the quest to eradicate the COVID-19 pandemic.